[Serious caveat this week: moving to the States and living in Brooklyn were not errors. It's a pun!]
Big news this week…. I've formally surrendered my US permanent residency!
There are all sorts of technical reasons why this is a good idea. But, as the saying goes: "You can take the boy out of America, but you can't take American out of the boy." After all, my girlfriend and daughter are both Yanks. And, notwithstanding last week's observations on queuing and artifice in popular music, there is other evidence of a strong link between Scotland and the States.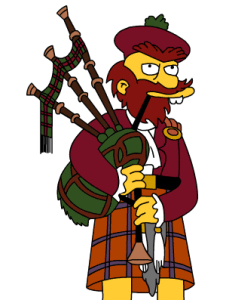 Beth and I have had a lovely week in the surprisingly seasonable Scottish summer, so let's take a(nother) post off from talking about strokes. Today…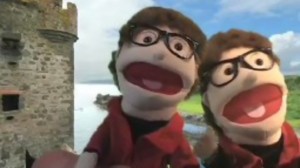 We've borrowed a book of Edinburgh city walks from the library, and did one on last Thursday. Rather wonderfully, this took us through the Old Calton Burial Ground. As well as accommodating monuments to, and graves of, prominent historical Scottish figures, the burial ground also hosts a statue of Abraham Lincoln. This marks the graves of five Scots who died in the Civil War, all on the Union side.
A little further along the walk, the American consulate stands on Regent Terrace. So, a week late, we were able to  make a nod towards Independence Day. And we're in the (second) best place in the world to do that. Did you know that the U.S. Navy was founded by John Paul Jones of Kirkbean, in Dumfries and Galloway? Andrew Carnegie, before building Carnegie Hall in New York, founding Carnegie Mellon University and establishing the Carnegie Museums of Pittsburgh, and before starting what would become the U.S. Steel Corporation, was born in Dunfermline. And on Saturday, we visited North Berwick, just along the Firth of Forth — a brilliant name for a estuary that puts me in mind of the wonderful fictitious Scottish football result, "East Fife four — Forfar five" — where the mainland turns to face the North Sea….
"Hopes of 'perfect score' dashed as East Fife v. Forfar goal tally falls just short" (Oct. 2011)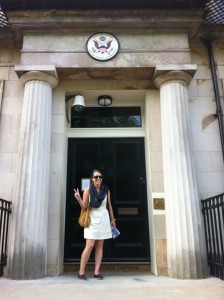 Everywhere we turned in North Berwick, we'd see roads, buildings and the like, all named after John Muir. Muir, the founder of the Sierra Club, a pivotal activist in preserving American wilderness areas, and the "Father of the National Parks", was born a bit up the road in Dunbar. According to Ian Wiki, "[i]n his autobiography, he described his boyhood pursuits, which included… re-enacting romantic battles from the Wars if Scottish Independence."
And Glasgow has its own Grand Ole Opry.
But enough whimsy for now. Upon giving up my green card, I declared "It's the close of a chapter!"
I moved permanently to the States as a bright-eyed youngster almost seventeen years ago, and had a good run, even if not so long ago, the arc of my life could have been described as a series of ill-advised decisions made with the best of intentions.  I had been a good kid, getting good grades, without developing a passion for any subject in particular, except maybe English lit.  Given that the toilet roll holders in law library toilets are labeled "English degrees: please take one," what else was I to do but go to the law school in Edinburgh?
My parents had always encouraged me to make the most of my opportunities, so when the chance came up to spend an exchange year at the University of Texas at Austin, I jumped at that.  It turned out that the course wasn't that tricky, so by the time I got back to Edinburgh, one more year of decent work and a couple of reasonably well written long essays were sufficient to seal my first and open up a career in law.
And so it went on.  The first-class degree and the time in Austin were enough to get me onto the standby list for a lucrative fellowship in the US.  And, of course, one of the fellows decided not to take up his offer, so I found myself doing a law masters at the University of Pennsylvania. When I went to the presentation on how to get a job in the U.S., it sounded pretty similar to the process I had successfully negotiated in Scotland to get the job I turned down to go to Penn.  You just had to be more familiar with American sports, and in a town like Philly, that wasn't too difficult.  I knew who Eric Lindros of the Flyers was, and having grown up with soccer, didn't have any problem with cheering the potential crippling of an opposing player at Veterans Stadium, booing Santa, or the need to have a courtroom and jail set up in the stadium to process the endless line of hooligans.
So far, so smug, right? But my comeuppance was on the way, and we all know where the journey ended up.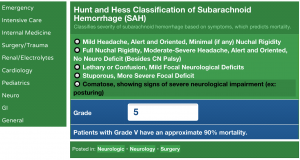 But then, in the third act, everything changed. Beth and I were a hell of a team getting me rehabilitated. We'd previously kicked around the idea of moving to Scotland, but now, almost overnight, the thought became very real. Even a year ago, moving home might have felt strange. Even as the repatriation date approached, I felt that the trip might be easier for Beth, in a way, because everything would be novel. Whereas I would have expectations.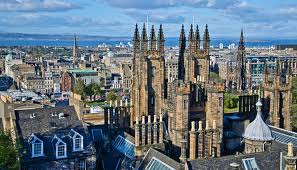 As it turns out, it's all been very comfortable. Walking round the back of the house and hearing birdsong in the early evening is lovely. After a long absence, a trip to Tantallon Castle isn't something to take for granted. We're even talking about joining Historic Scotland, for St. Andrew's sake!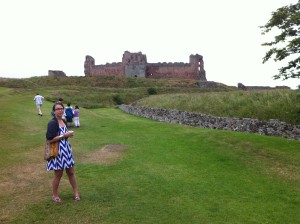 I've previously mentioned how the explosion of social media has changed the complexion of a transatlantic move. That doesn't just apply to the ability to stay connected with friends on the other side of the world. I'm following the Edinburgh Little Black Book on twitter. So far, they've turned us on to Frederic Church: Through American Eyes at The Scottish National Gallery, which we'll be checking out before it closes on 8 September, and best of all, Scottish Opera's Don Giovanni (Unwrapped) at the Festival Theatre on 15 November. There,
[y]ou'll hear highlights from singers, and be introduced to the principal characters, the plot and some key scenes from Don Giovanni. Learn about props, lighting, direction and some of the theatrical secrets behind the production. Join The Orchestra of Scottish Opera, singers and back-stage crew to find out everything you need to know to make the most of your night at the opera.
And it's free! And its only takes an hour! This is going to be my best night at the opera ever! Though the Met's encore HD presentation of Maria Stuarda in cinemas was great.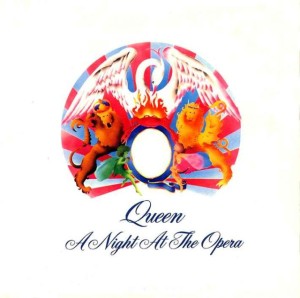 So, if you're in Edinburgh, or just visiting (hint, hint), check out @EdinburghLBB. There's even some bloke on their feed who pops up from time to time to recommend treasures like Tantallon Castle.