I heard a story on the radio last week about a man who had suffered 27 heart attacks in a day. These sort of things are always of interest, partly because of the prevalence of heart disease in Scotland and also because of the similarity between strokes and heart attacks. Particularly haemorrhagic strokes like mine that are caused by high blood pressure.
Basically how it went down
Anyway, Ray Woodhall's story is pretty amazing…
[Need another does of stroke-related whimsy to get through the week?]
So much so, the piece on the BBC News site is weirdly cagey about it. It's all "Mr Woodhall said…" and "he says…" THAT HE DIED 27 TIMES IN ONE DAY!!!
It's odd that the Beeb are being so circumspect about the story when they had such great success last week blowing open the biggest story in this week's Scottish Premier League action.
WTAF?! @BBCSport are reporting that @OfficialKillie have pulled a Baltimore Colts and moved to Glasgow overnight?!?! pic.twitter.com/uEXPc5xsrT

— Ricky Monahan Brown (@ricky_ballboy) February 19, 2017
And notwithstanding that, you'd think they'd want to double down on Ray Woodhall when they'd missed the biggest story in world news over the weekend.
As I originally  listened to the Ray Woodhall story, it was all very tabloid-y – like I say, LOCAL MAN DIES 27 TIMES IN A DAY and that sort of thing. Then came the bit where he spoke about his wife watching him die, and that was heart-wrenching.
But I managed to pull myself together for the rest of the weekend. Then Mrs Stroke Bloke suggested we watch a movie.
Long-suffering readers of the blog will recall that Mrs Stroke Bloke has been slowly introducing me to the canon of eighties American cinema that I missed while pretensioning my way through Betty Blue and Les Amants du Pont Neuf as a kid.
The Goonies was a success. The Princess Bride provided the idea for the framing device for Nerd Bait's The Wee Mermannie. But I still resisted watching Dirty Dancing pretty hard.
I mean, "Nobody puts Baby in the corner" sounds pretty dumb out of context.
However, having watched it, I can confirm that Dirty Dancing is a pretty good movie. So when Mrs Stroke Bloke suggested we watch Ghost, I didn't hesitate.And it turns out Ghost has a lot going for it. Whoopi Goldberg's Oscar makes sense when you see her acting against a guy who's not there, when the guy actually is there.
Of course, I enjoy the fact that it's set in New York City. Mrs Stroke Bloke enjoys that so much of it can be repurposed as a game of "Guess the Subway Station".
But Ghost isn't without its faults. First, it takes place in the present – which for the purposes of the film is 1990. Now, I'm not saying the early 'nineties didn't look like the 'eighties, but it's a little jarring to have it confirmed. I mean, I'm OK with Demi Moore wearing chunky cords, but I don't need to be reminded that teenage Ricky was doing the same thing.
For all that, though, it's a good movie. There's some surprisingly arty direction at work, and for the ladies, there's topless Patrick Swayze from the outset.  Even if being too excited about that these days would be a bit close to the premise of the movie for comfort.
Anyway, the visual FX are functional enough to do their job, and the direction and storytelling are clever enough to keep everything within the budget for said effects.
Having said that, I'm not sure that they quite capture the nature of the deaths accurately. Of course, every death is different. And of course I'd lost my job as a New York lawyer the day before my stroke, so maybe that's why my experience didn't incorporate the howling shadow demons hauling New York banker Carl Bruner to his death.
Patrick Swayze's character, on the other hand, walks into the light, which appears to be populated by the extra terrestrials from Close Encounters of the Third Kind. I think this is meant to be heaven.
I could be wrong, though. My sci-fi and horror experiences would suggest that they're just as likely to morph into something terrible.
It's hard to tell. Sam Wheat has terrible taste in chairs. But I'm not God, so we can't be sure that's a damnable offence. He just about becomes self aware enough to start saying I love you instead of Ditto, so that's a step towards enlightenment. But his parting words of wisdom to his partner are See ya. Which don't really cut the mustard.
Really, it sounds like a threat.
I'm told that my dying message wasn't great, but then, we can't all be George V.
Including George V it seems, whose actual last words were more likely a much more Windsorian God damn you! to a nurse administering a sedative.
So what does death look like? Back to you Ray Woodhall.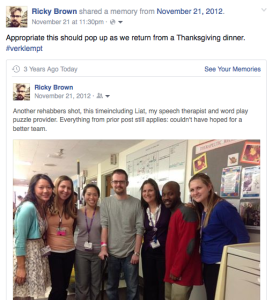 Mr Woodhall said his partner was holding his hand when the alarm went off and I saw the crash team running in and she watched me die in front of her.
Dying, he said, was like falling asleep, which is what he thought kept happening until medical staff told him
You went.
Like I say, all deaths are different, but if you're lucky enough to be in good hands, that sounds about right.
Save
Save
Save
Save
Save