In autumn of 2012, they pulled the siphons from my skull, and the spigot from my spine. I slowly started making memories again, but I was rubbish at answering the questions doctors ask patients with brain injuries.
"Who's the President?" they would ask.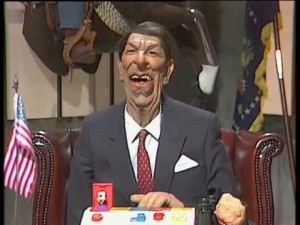 Longsufferinggirlfriendoftheblogbeth saw where this was going. I'd been in the States for 16 years and my DNA had mutated into something approaching half-American. But just as my accent was (mostly) immutable, on some deep level I didn't really give a shit who the President was. As Beth will tell you — even at the best of times, if I don't give a rat's ass, I don't remember.
"He's British. You should ask who the prime minister is."
So they'd ask, and I'd try a little harder.
"I… don't know."
"You don't like him."
"Oh!"
Getting my age right was difficult, too. The brain fireworks had started right at the end of September, and my new age hadn't had time to take. At the the beginning of the month, I had arguably been clinging on to my mid-thirties. At October slowly swam into focus, I was a middle-aged stroke survivor.
So this week, I was interested to listen to the novelist Ed Docx's Radio 4 programme, Batter My Heart: Growing Up And Growing Old With John Donne. Like many British kids, I had studied and appreciated the great metaphysical poet in high school. Even if you didn't, we're all steeped in Donne. Go and catch a falling star. No man is an island, entire of itself.
The twisting eye beams of the last verse of Nerd Bait's Yes Ricky are pure Donne, too. Just as Docx and the Donne dons in Batter My Heart had exchanged Donne poems with partners, as a teenager I had employed the astonishingly modern seventeenth century poet to woo lovers, borrowing a frankness and intelligence that a teenage Edinburger couldn't muster.
Ed Docx, and Donne scholars Katherine Rundell,  Colin Burrow, and John Carey find that growing older, they enjoy "the Donne who has started to find problems."
Of course, it's easy to scoff at this seriousness from the high hills of youth. Even as we age, it's hard to shake off a fear that we are succumbing to, as Colin Burrow describes it, a "growing sentimentality and all the other terrible consequences of age."
This week, I watched a show on the Edinburgh Festival Fringe called Hiraeth. Per Wikipedia, "Hiraeth is a Welsh word that has no direct English translation. The University of Wales, Lampeter, attempts to define it as homesickness tinged with grief or sadness over the lost or departed. It is a mix of longing, yearning, nostalgia, wistfulness, or an earnest desire for the Wales of the past."
In Hiraeth,  a woman in her mid-twenties embarks on an autobiographic journey from a small Welsh family farm to London. My review, while noting the vivacity of the youth of all ages that adds a crackling sense of creativity to Auld Reekie each summer, continues
Hiraeth's problem is that while figuring out art, moving out, failed crushes, the death of a grandparent, and working towards a first job are impossibly massive and new from the perspective of teenage or early-twenties rural West Wales, without something more, they constitute a diary of things that happen to all of us.
There is a tendency for youth to affect seriousness and depth, in the rush to find the advantages of maturity — independence, experience, and the like. It's a trap I remember falling into, certainly. This is encouraged by messages deeply entrenched in our society. Return to the first letter of Paul (not that one) to the Corinthians:
When I was a child, I spoke as a child, I understood as a child, I thought as a child: but when I became a man, I put away childish things.
Yet, entering my early Clooneys, I find that my favourite line from fifty years of Doctor Who rings increasingly true: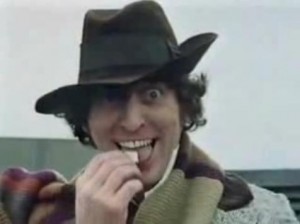 Peter Capaldi, the next incarnation of The Doctor,  is interviewed by Rachel Aroesti in this week's Guardian Guide. The middle-aged Scottish man discusses the first few times he filmed on the new TARDIS set: "[T]here were always very nice prop guys telling me how to work the TARDIS, and I was like,"
I know how to work the TARDIS! I've known for a very long time how to work the TARDIS. Probably longer than you. So you don't need to tell me!
Caught between sex and stroke, between Jack Donne and Doctor Donne, between piloting the UK government and the TARDIS, what's a man to do? Act his age, I suppose….