People love lists, right?  Well, according to Rob Fleming, Nick Hornby's representative in High Fidelity, a certain type of bloke does, anyway.  So much so, that Hornby himself was able to get 31 Songs published.  That's a list of 31 songs, natch, with each chapter being a fairly lengthy entry  about one of the songs; either why it's good, its personal resonance, or some other facet of the particular song.  It's pretty good.
These days, list shows are ubiquitous.  For example, consider the cheap-o, low-brow filler populated by talking heads with no particular knowledge of their subject, like BBC America's execrable The Brit List.  We saw their 20 sexiest Brits show.  Which, as Beth pointed out, had to be filled out by a car.  And a candy bar.  Amusing middle-aged yet skinny men with good hair from the '90s didn't get a look-in, oddly enough.  I'm talking about the Guardian's head music writer, Alexis Petridis, of course.  (See blogs passim.)
At the other end of the spectrum, there are shows like A History of The World in 100 Objects, a joint project of BBC Radio 4 and the British Museum, written and presented by Neil MacGregor, the director of the British Museum.  Then's there's the kind of show that's perfectly pitched between these two extremes, and that's where you'll find apoplectic.me's occasional, cut-out-and-keep series, 100 Great Scottish Strokes.  Of course, I'd be number one, for the sheer punk rock nature of my 300/200 hemorrhagic stroke.  Edwyn Collins would be in there, too, for reasons already discussed on apoplectic.me.  But who would present?
Topically enough, it would be former BBC political editor, Glasgow's own <drum roll…> Andrew Marr.  Marr was released from hospital on Friday to continue his rehabilitation at home, having been admitted to hospital in January.  He'd had – you guessed it – a stroke.  According to The Guardian, "Marr's stroke has shocked many of his colleagues".  Like the serial killer who "seemed like a nice fella" and "kept himself to himself", "he was considered fit and enjoyed long-distance running….  But, in an interview last year, Marr spoke of "utter exhaustion" after "two years, about two dozen countries, a blur and daze of airports and hundreds of thousands of words".
Marr's a polarizing figure — right-wingers don't like him, and in the wake of his 2008 superinjunction, and, particularly Private Eye editor, Ian Hislop's attacks, a number of other people hold him in fairly low esteem, too.  However, his Start The Week show, again on Radio 4, is usually a thought provoking listen.  So, since we're talking about lists, here's my top 10 list of British podcasts, particularly for the US-based anglophiles among the apoplectics (Hi, Beth!).  They're all available on iTunes or on the beeb's or Grauniad's website, as applicable….
Start The Week
Andrew Marr (or his non-stroke afflicted stand-in) kicks off the week by discussing a subject of general and current interest with high-profile figures involved in applicable fields, including artists, politicians, authors, scientists and historians.  Episode of interest to apoplectic.me: Andrew Marr discusses various aspects of middle age with the scientist David Bainbridge, the poet Simon Armitage, the writer Deborah Moggach and the psychologist Claudia Hammond.
Football Weekly
Former Football Italia presenter James Richardson presents the latest soccer round-up with The Guardian's online and print journos, replete with A.C. Jimbo's usual ration of puns and whimsy, and often accompanied by the deadpan wit of Barry Glendenning.  An unsurprising English focus, but good coverage of Spain and Italy, as well as the occasional detour elsewhere.
In Our Time
Melvyn Bragg and representatives of the great and good, often academics, discuss various aspects of "the history of ideas".  Fascinating if they're covering something you're interested in; can be brutally humourless and dry otherwise.  Example of interest to apoplectic.me:  A discussion of the philosopher, David Hume, a key figure in the Scottish Enlightenment.
Friday Night Comedy
Depending on what's currently in season, either an episode of BBC Radio 4's The News Quiz or The Now Show.  I find the BBC's News Quiz a little less self-satisfied and funnier than the NPR equivalent, but that's probably my own personal bias, coupled with an admiration for the often hilarious assassin in a cardigan, self-described Trotskyite, Jeremy Hardy.  The Now Show, led by Steve Punt and Hugh Dennis, has been great over the years (particularly in its Marcus Brigstocke heyday) but may finally be running out of steam.
Music Weekly
This one's made by it's front-man, Guardian head music writer, ace tweeter, gin sponge and star of last week's apoplectic.me, Alexis Petridis ("Gin and The Bee Gees, that's about the size of it").  His Guardianista guests review notable new tracks, before a feature such as "Cream's Jack Bruce and Scottish folk trio Lau discuss their collaboration at the Celtic Connections festival."
Infinite Monkey Cage
More Radio 4 goodness, as rock-star scientist and adviser on Danny Boyle's Sunshine, Brian Cox, and deadpan comedian and atheist, Robin Ince, discuss matters of scientific interest.  Busy men, of course, so it doesn't crop up in the feed that often.  Episode of interest to apoplectic.me: "Brian Cox and Robin Ince are joined by comedian Jo Brand and neuroscientists Sophie Scott and Brian Butterworth to ask whether science will ever be able to really understand the human mind."
Science Weekly
Staying with science, here's The Guardian's take.  Alok Jha and the guys and gals of the Guardian's science desk are fairly amusing and endearingly self deprecating as they review the latest developments in the world of science.  Episode of interest to apoplectic.me: Rocks, Planets and People, wherein "Neil Shubin reveals the cosmic accidents that created our world in The Universe Within.  Plus, Dr. Kevin Dutton on the lessons we can learn from psychopaths."
The Football Ramble
Guardian Football weekly's drunk teenage cousin.  Four pals amusingly dissect the week's action in England, Scotland and around the world.  Who will be this week's inductee in the Dean Windass Hall of Fame?  Importantly, includes "Diego Corner", from which we receive "regular updates on the life and crimes" of Diego Maradona.

Honorary Scotsman, Diego Maradona, in action against the Auld Enemy

Mark Kermode and Simon Mayo's Film Reviews
You know how handy it is to come across a reviewer who has a similar worldview to your own?  Mark Kermode is a curmudgeonly old Trot who takes his hair and James Bond themes too seriously, but still has a sense of humour.  (Hi, mom!)  And, by Jiminy, he can review a movie.  But perhaps the best part of this show is his long-standing, bickering yet comfortable middle-aged professional marriage to BBC2 Radio host, Simon Mayo.
Test Match Special
A bit like Kermode and Mayo, BBC Five Live's cricket podcast gets much of its appeal from the chemistry between Jonathan "Aggers" Agnew and irascible professional Yorkshireman, the curmudgeon's curmudgeon, Geoffrey Boycott.  Best of all, they can wrap a whole day's test match cricket into around fifteen minutes.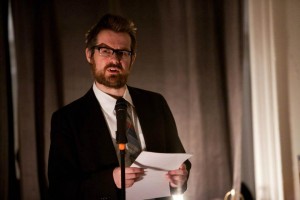 Hopefully, there's something there to keep you occupied till Thursday.  Till then, ta-ra, apoplectics!  Oh, and let's see some activity below the line (missus!).  Podcast recommendations?  Random lists?  Anything else you fancy.