Stroke Bloke and The Fabulous Beth spent Thursday and Friday nights
in Düsseldorf, Germany…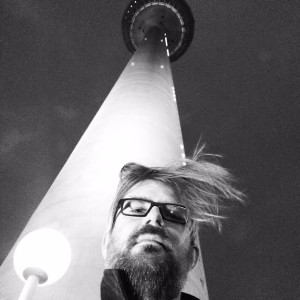 …and our little break means a pause in considering how countries relate a vision of themselves through anthems (1, 2). 'Cos that's a big subject, as illustrated by The Prof's awesome comment to last week's post.
As we dashed headlong through Düsseldorf, I was instead reminded of #strokier posts. And, indeed, a tweet tweeted from my bed at The Hospital for Joint Diseases during my in-house rehabilitation:
Goal for end of the year. Jogging in Prospect Park.

— Ricky Brown (@ricky_ballboy) November 15, 2012
Kinda wish Twitter would retain the profile pics that were in effect at the time of old tweets. That's clearly not Stroke Bloke 1.0 in the embedded tweet.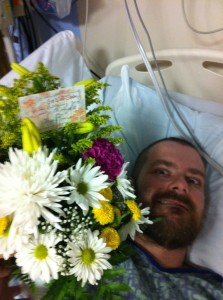 Anyway, I don't think we hit that madly ambitious goal. My brain was probably still broke when I posted it.
But it wasn't as madly ambitious as what has since transpired. Moving to Edinburgh. Completing the Islay half-marathon. Performing at the Book Festival with Nerd Bait and Illicit Ink. Completing my Masters in Creative Writing. And not least, having T.F.B. around to indulge all this stuff!
I've written in greater detail about the importance of narrative and positivity (where available) previously: I Was Orwell's Heir.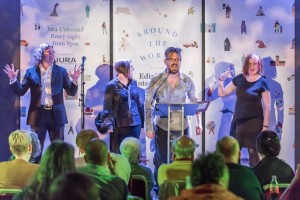 It's been supercool to have these unexpected things come to pass. It really helps maintain a positive mindset – as well as make the decisions that will help similar things happen in the future. So when Beth suggested that we buy a voucher for a mystery trip in Europe, I was all like
Sure, that sounds like fun!
The message came back that our trip would be to Düsseldorf. I knew next to nothing about Düsseldorf. But it turns out…
The wonderful, Brooklyn-ny and New York Times-recommended Bar Alexandra served up great cocktails just around the corner from our hotel.

Hey! It's like Brooklyn, but the Cheese Puffs taste of peanuts!

You can take a romantic stroll through the Hofgarten and find an Art Palace!
The Rhein bank is dominated by the Rheinturm (above). You can get a cocktail at the top of that, too.
It's a lot to pack in, really.
But next week, my batteries will be recharged for a return to national anthems.