On the bus into Edinburgh's New Town yesterday, I was reflecting on a short story I've been working on, a historical fiction about the Ross-shire Sheep Riots (also known as the – ten-day long – Year Of The Sheep). As the name suggests, it's set in Scotland. My work tends to be set most often there, or in NYC, or in some imagined hybrid of the two.
Don't worry – I'm going somewhere with this.
Check out the Apoplexy Tiny Letter for a soundtrack while I wend my way.
By dint of their setting, many of my stories – and long-suffering readers of the blog won't be surprised by this – end up being not just about their primary through line, but also having a kind of B-line about what Scotland is.
Perhaps that's also not surprising, because borders and places where ideas meet, places where there's perhaps a mental incongruity, are interesting places to mine artistically. Scotland is both a nation and not, for the purpose of international law, a State. And there's a tension and a friction in living that.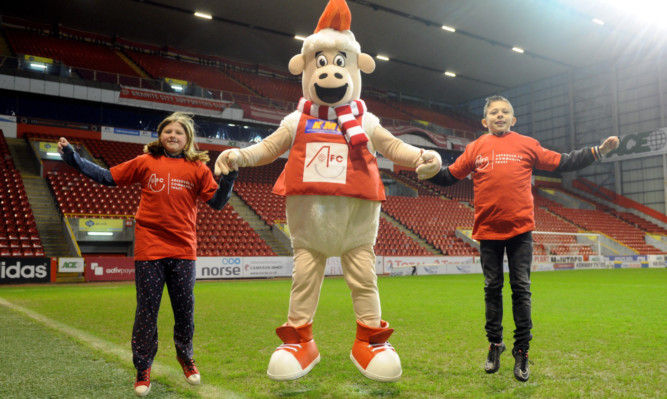 Yes, I know Aberdeen's 120-odd miles from Dingwall. But I'm just a typical Central Belt city-slicker, amn't I?
I think the reason I was thinking about all this was because I was on my way to Monarch of All it Surveys? a talk at the National Gallery of Scotland by Dr Jonathan Murray of the Edinburgh College of Art considering the history and enduring cultural resonance of Edwin Landseer's 1851 painting The Monarch of the Glen.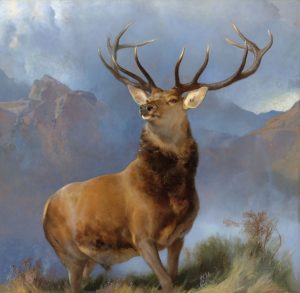 Yes, you know it. It was purchased by distillers Dewar and Sons in 1916 and used as their trademark for many years. It's also been used on the label of tins of Baxter's Royal Game soup.
But maybe you weren't born within a ladle's length of the Baxter's factory in Fochabers. And maybe your go-to well whisky for over a decade wasn't the Dewar's whisky that's so ubiquitous in New York City.
As an academic and critic in film, Jonny Murray noted the reference to Landseer's image at the climax of the 2006 film, The Queen. Also, that Peter Blake painted a version, After 'The Monarch of the Glen' by Sir Edwin Landseer for Paul McCartney's Mull of Kintyre property. And that Peter Saville – of New Order album covers fame – painted another version.
I learned that Landseer, critically and commercially successful in his time, had quickly fallen out of favour with the art establishment after his death. And that, his work has been somewhat re-evaluated in more recent years, with the National Galleries of Scotland acquiring the painting from the multinational drinks company Diageo at half its appraised value after a public fundraising campaign.
Dr Murray also made reference to more recent and sceptical engagements with The Monarch of the Glen by contemporary Scottish artists like Ross Sinclair who, in a commission from Aberdeen Museum and Gallery, created an installation called Ross Sinclair versus Sir Edwin Landseer which includes a pop song containing the lines
Edwin Landseer died in 1873
I don't know what he means to you
But I'll tell you what he means to me
Sinclair's thoughts weren't entirely complementary, it turns out.
Even if it doesn't sound like he quite went quite the full "Chuck D-On-Elvis"
At the end of the talk, members of the audience were presented with postcards from the National Galleries, asking us What do you think is the relevance of [The Monarch of the Glen] to Scotland today?
I think that it's only an illustration of the past today's Scotland emerges from. The Monarch of the Glen was painted less than sixty years after the Ross-shire Sheep Riots. Landseer was painting a picture of an imagined Highlands commissioned as part of a series of three panels to hang in the Palace of Westminster in London; the Refreshment Rooms of the House of Lords, to be more exact.
Once they were completed the House of Commons refused to grant the £150 promised for the commission

The painting went on to be held in a series of private collections, and it sold widely in reproductions in steel engraving thought the 19th century. Landseer had a ready audience among the landed and hunting set for his paintings depicting The Hunt.
What's interesting to me this week is that the setting of the painting – an idealised portion of Scotland that could be Glen Africc or Glenfeshie or Glen Orchy or Glen Quoich – is empty.   This Scotland of Edwin Landseer and his patron Walter Scott contains a Highlands which fills two-thirds of the total area of Scotland. That Highlands contained almost half the population of the country just a few years after the Ross-shire Sheep Riot, and had less than a fifth of the population when The Spectator article linked above was written, to allow room for sheep and hunting estates and the Balmoralisation of the area.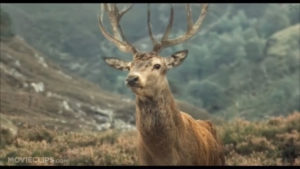 Now, the Highlands and Islands are subject to various attempts at local community buyouts, and it's recognised that what is seen at the natural, rugged beauty of the Highlands isn't as unnatural and untouched as we might believe.
So, I suppose that's my answer to the National Galleries' question, What do you think is the relevance of [The Monarch of the Glen] to Scotland today? It's a picture depicting a cautionary tale.
But when we're talking about cultural resonance and the depiction of Scotland, I'm glad that I grew up in an era when I could be exposed to something Jonny Murray has written about in the day job – Comfort and Joy and the other films of Bill Forsyth – and more recently I've been able to read books like those of Alan Warner. In a country where film and literature is set in, and comes from, places that are recognisable to a Scottish kid.
If you have any reflections on Landseer's painting, the National Galleries of Scotland are interested to hear about them at the link above. Dr Jonathan Murray's talk on The Monarch of the Glen is available in its entirety below.
@eca_edinburgh Dr Jonny Murray gave a brilliant talk today @NatGalleriesSco about the #visualculture of #MonarchoftheGlen #lunchtimetalk watch it here: https://t.co/rpz9HdxGLp 🦌 pic.twitter.com/LRHe2TR4jT

— Gráinne Rice (@Grainnerr) July 24, 2018
SaveSave
SaveSave