Every so often, something happens in the world and you can suddenly see the teenage girl inside the fortysomething professional pol.
So after a lovely family Xmas day, this 80s teen is off to bed feeling a bit sad, but listening to this masterpiece pic.twitter.com/tg2OujWLyO

— Nicola Sturgeon (@NicolaSturgeon) December 26, 2016
Or for that matter, the snarky fortysomething stroke bloke.
Last week's post on chairs was meant to segue seamlessly into a post this week about a musician who – like chairs – features surprisingly little on the blog yet has a chameleon-like ability to adapt to the times. Then George Michael died.
[Check out the Apoplexy Tiny Letter for more Scottish humour formulated along classic lines.]
For all that I've been happy over the past four years to note the impact that seeing Blondie or Soft Cell or Frankie Goes to Hollywood or the Sisters of Mercy on Top of The Pops had on the nascent Stroke Bloke, it was a surprise to be reminded this week the sheer joy of seeing this as a wee nine year-old in Edinburgh.
Soon of course, as I thought I was growing up, I would put away childish things and gravitate to The Smiths and The Cure and the like. The Battle of Orgreave was only a month away. Soon enough, Andrew Ridgeley would move to Monaco and try his hand at Formula Three motor racing. Wham! and George Michael didn't seem to have a place in my emerging mindset.
Of course, I Knew You Were Waiting for Me and Faith and I Want Your Sex and Monkey and Freedom! '90 all crossed my radar – how could they not? That early string of singles was amazing in its consistency.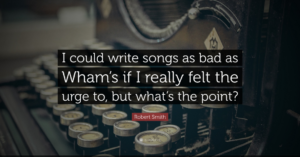 It was while I was sitting in a cheap motel somewhere between New Orleans and Austin, TX, on the way to Mardi Gras, that a friend insisted on putting on Stevie Wonder's Innervisions and Listen Without Prejudice Vol. 1. And I'll say it: George's songwriting held up in the face of Stevie's opus better that most would.
As I listened to PM on Boxing Day, and extended extracts from George Michael's lengthy 2012 (I think) interview with Chris Evans and the tributes of contemporaries like Martyn Ware of The Human League and the overtly literary Heaven 17, it became evident just how seriously George took his songwriting, and how seriously good it was. I mean, you can't argue with a tribute from the guy who wrote this. Seriously.
"It has chords that keep going up like an Escher staircase
and in the end there's this big release" – OVERTLY.
 As the reactions continued across traditional and social media, a picture emerged that was at odds with the assumptions Tiny Ricky had made about Wham! and its members. And I don't feel too bad about that – after all, their manager was the arch-manipulator for The Yardbirds, Marc Bolan, Unltravox, Sinitta, and others. Is the picture below the result of a tabloid-baiting nightclub altercation, or had Andrew Ridgeley simply had a nose job? Who would know what to believe?!
It turns out that over the years, George Michael had not only become an advocate for LGBT issues, he'd also backed the miners who'd been set upon by Government forces at Orgreave, opposed the Iran war, supported nurses, and the like. No wonder the tabloids had changed their tune by the time he died.
Or do they just have new targets now? Dead men bring no lawsuits.
Never forget pic.twitter.com/2Zk07saimE

— Daily Mail Comments (@BestoftheMail) December 26, 2016
A lot of that stuff (and more) was done quite quietly, I guess. And the impression I got from the interviews and the recollections was that what George Michael would want to be remembered for was his music, his songwriting. And of course, that's right. The music does its own work. For example, I love the story of how Aretha Franklin bristled about doing Sisters Are Doing It For Themselves with (straight) butch dyke Annie Lennox, but thoroughly enjoyed doing I Knew You Were Waiting with that lovely young man George.
So, here's to you George Michael, chameleon and apoplectic.me featured artist.