So, Longsufferinggirlfriendoftheblogbeth and I did indeed make it to Inverness last week to embark upon a scientifically rigorous search for the Loch Ness Monster. We stayed at a hotel on the Lochside. We took a boat ride up the loch to Urquhart Castle. And the results are in…..

Just take a look at the red area on the right hand side of the scanner readings. RIGHT?!?!
But for those of you who aren't experienced in sonar interpretation, here's some pictorial evidence of our results that's even more conclusive than that presented in last week's blog.
If that's possible.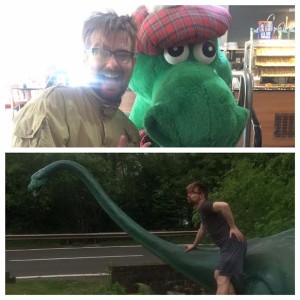 A taxing day of cryptid hunting was interrupted by our tour boat's arrival at Urquhart Castle. Reliable reviewers have been less than wholly enthusiastic about Loch Ness and its surroundings, but nestled in beautiful surroundings, we were quite taken by the castle. As one might expect, it's surrounded by a moat. Less in line with stereotype, but not entirely unusually, the moat was never filled with water.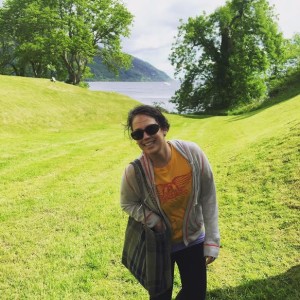 In the absence of water, Historic Scotland reveals
Rocks and other projectiles could be dropped through 'murder holes' in the wooden ceiling onto the heads of anyone who got past the portcullis.
I mean, where are they going to find water, right? Loch Ness is neither the deepest loch in Scotland nor the largest by area. Although, without wanting to get all #indyref on y'all, its volume is such that it holds more water than all of the lakes in England and Wales combined. (At this point, I should probably issue my usual disclaimer about liking English people a great deal.)
In the absence of a moat, the castle changed hands every couple of years in the years around the Wars of Independence. It was moving between Scottish hands more or less sympathetic to the English crown or the Scottish crown. And it's now in the hands of those lovely folks at Historic Scotland. The various informational posts around the castle are filled with facts, many of which are pertinent to apoplectic.me's interests.
Like being locked in a cell, with little hope of release. Though these were literal, rather than metaphorical stroke brain cells.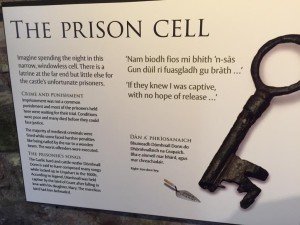 And, like a stroke survivor, the folks who maintain Urquhart Castle have had to do a lot of work to piece together the stories that are posted around the ruins, after the locals plundered the castle for building materials. Those resourceful Highlanders started with the roofs – 10 tonnes of stolen lead were found in nearby cottages and barns in 1717 – and carried on (and out) from there. Then, between 1912 and 1922, after the Castle passed into State hands, the ruins were cleared of rubble and crumbling walls were consolidated. While well-intentioned, this work removed important clues to Urquhart's past….
I was also happy to read plenty of Scots language quotations dotted around the place. For example, an eye witness account of a 1597 earthquake:
Ther was an erth-quak quhilk maid all the North parts of Scotland to trirable.
And also that Urquhart Castle relied on principles of localism – They brocht bried to the buird and braun of ane bair. And the worthyest wyne wnt upon hicht.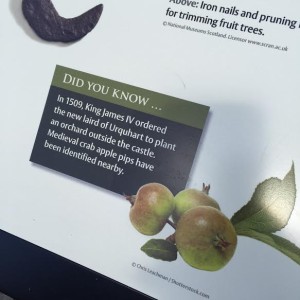 Since we're piecing together history from contemporary accounts, I should probably admit that we didn't really find Nessie this weekend. Which is annoying, since Nerd Bait are meant to be gigging with her as part of the Edinburgh International Book Festival this summer.
Instead, we went to see the fairies along at the Fairy Glen at Rosemarkie. Apparently, this isn't the only Fairy Glen in the Highlands – Scotland is full of fairies. Very Scottish fairies, according to Hugh Miller, a writer, churchman and early palaeontologist.
…rider after rider, each one more uncouth and dwarfish than the one that had preceded it, passed…
And let's not even get into the "wild, uncombed locks."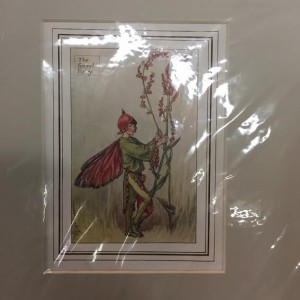 So, no Nessie, and no fairies. But a lovely weekend, full of echoes and stories. One might even say it was entirely worthwhile.