Last Wednesday, I attended my class's graduation ceremony from the Masters of Science programme in Creative Writing (?!) at the University of Edinburgh. As I wrote at the time…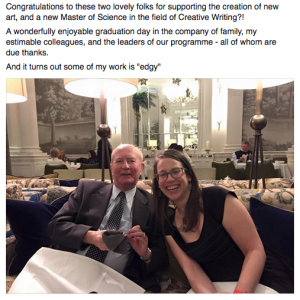 We all had a lovely time. And I'm proud to be able to say that with the help of Beth and Paw Broon, I'm a post-stroke graduate! I have to say, though, that while it was nice to punctuate a wonderful year, it's a bit concerning to be leaving the leafy groves of academe for a highly competitive world 18 years after I did it the first time.
Fortunately, Book Week Scotland was taking place out in the real world at the same time. And that helped ease the transition….
[In the Stroke Bloke privacy spectrum, get the good stuff and have a chat over here.]