This Sunday was a pretty quiet day.  As Sundays should be.  Beth was a little under the weather in the morning, so, for once, I got to be the doting partner.  Wouldn't wish a stroke on you, Honey, but that was nice.  We spent a good part of the early afternoon daydreaming about the next post-recovery steps in our relationship.  That's important for a couple recovering from a stroke, I think.  The dreams and aspirations that can do so much to sustain a relationship can be drowned in the blood, shit and snotters of the harsh reality of a stroke, and it's good to remember from time to time that a partnership is for better, as well as for worse.  Day trips to St. Kilda and flowers, as much as puncture wounds to the groin and angiograms.
Nevertheless, as the afternoon progressed, we felt the need to get out and be productive, so we headed to midtown, to the Warby Parker showroom, to order me a new pair of glasses.  I've mentioned previously (Dec 17) that "[o]ne of the most worrying aspects of my convalescence was waking up one morning, rubbing my eyes, and feeling the numbness in my left eye and eye socket."  I got lucky, and, that passed, although many stroke patients find that the sight on their weak side is damaged by their stroke.  The other week, I finally got round to having my eyes checked for the first time in an age.  On the way there, I was a little concerned about how things would go.  Would the stroke have wreaked unnoticed havoc with my left eye? Would the capillaries at the back of my eye have burst?  Or narrowed or thickened as a result of years of high blood pressure?  Well, the eye doctor did that test where he gave me the pupil-dilating drops, then checked out the capillaries with the magnifying lenses in an ophthalmoscope.  It's a good test, because this is where these small blood vessels can be viewed and often any problems here are likely to be repeated in small blood vessels in places that cannot be seen, such as in the kidneys.  In fact, many people discover they have high blood pressure because their optician notices the signs during a routine eye test. Fortunately (surprisingly?), the test didn't show up anything bad, and my prescription was largely unchanged from my last check up, during the mesozoic era.  Nevertheless, the existing glasses had experienced much abuse, so… Warby Parker.
Not an outlet designed for the stroke survivor.  A store front would be crass and obvious, of course, so try not to get confused finding it.  Then, it's inside to find oblivious, self-absorbed hipsters blocking every mirror and every decent frame.  Though, admittedly, I'm the Brooklynite looking for a pair of acetate frames.  I'm reminded of the therapist at the hospital introducing my roommate and me to a jazz guitarist who was participating in the visiting artists program."This is Mr. D., he's from Mali; he's a churchman, and he sings in the choir.  This is Ricky, and he's… a… Scottish hipster."  I'm not even sure what that is.  After dropping 35lbs., had I been mistaken for Stewart Murdoch from Belle & Sebastian?  What I do know, is that, while elderly, cussed church-going Malians are expected to like Georgia On My Mind, Scottish hipsters are expected to enjoy Steely Dan.  (Not Frightened Rabbit?)  Ironic humor?  Named after a strap-on from Burroughs' Naked Lunch?  Sure.  I'll take it.  Sounds a little Scottish (happy hardcore and Trainspotting era) and a little hip.
In the end, I plumped, with Beth's help, for a pair of two-tone Wiloughbys.  I'm told they're quite swingin' sixties.  I'm happy with this, since, while Catholics hang crucifixes above their entry doors, this Scottish Atheist Hipster hangs a picture of Michael Caine next to his.  The Man Who Would be King stacks up well with water into wine; Get Carter with healing the blind.  And while the record suggests Our Saviour had a wicked sense of humor, I'm not sure the gospels can top:  "I have never seen [Jaws: The Revenge], but by all accounts it is terrible. However, I have seen the house that it built, and it is terrific."
Cruelly, my stroke struck just after I'd turned 38, and decided that I had to move adjectively on from "mid-thirties" to "late-thirties".  So, before I acquire a pair of two-tone plastic lenses, I have to ask the question: "Do these make me look too George Smiley?"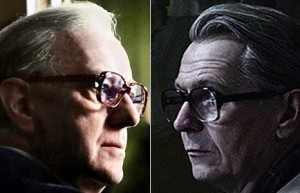 More fortunately, even if the answer is yes, these days I can still pretend I'm an eternally angry young man with a later-life sense of mellow and good tailoring, like Gary Oldman, rather than a retirement age Alec Guinness.  Vanity, even after a stroke, thy name is Ricky.  Even if at this stage, I'm going to pass off any remaining pride in my appearance as a Good Thing.
Still short-sighted, though.