So, this happened this week.
Annual viewing of #LoveActually well advanced. Which, as every right-thinking person knows, is a [_______]* movie.

— Ricky Brown (@ricky_ballboy) December 13, 2015
Love Actually provokes quite heated opinions, I've found. True to form, my declaration elicited what passes for a shitstorm on my various social meed feeds.
The most common response on twitter was
shit?
Facebook felt similarly, and there, I felt honour-bound to reply:
You're talking to the man who didn't hate Titanic when he saw it in the theatre, so don't ask me.
Even writer and director Richard Curtis describes the movie as a "catastrophe" in this piece.
Well, OK, he doesn't. That's what the headline says, and like a fool, I clicked on it. What he actually says is, editing it was a catastrophe – "Because there were 12 stories, [finding the right order] was like three-dimensional chess … And that was enormously difficult to finish or get right."
But Love Actually has a number of saving graces. If you haven't gathered, The Fabulous Beth and I watch it every festive season. Not least of those saving graces is this comic tour de force by Lindy West for Jezebel:
Everything in this movie is fucking insane. That's not how press conferences work. That's not how diplomacy works. That's not how prime ministers work. NOTHING IS HOW ANYTHING WORKS. That's not how weddings work, that's not how audio recording works, that's not how saxophones work, that's not how hair works, that's not how business meetings work, that's not how art works, that's not how grief works, that's not how primary school Christmas concerts work, that's not how airports work, that's not how music charts work, that's not how fat works, and none of it is how "love works."
And of course, the list of acting talent is outstanding. As West kind of points out, Emma Thompson and Alan Rickman do outstanding turns as a woman who really loves Joni Mitchell and her husband who finds a SECRET JONI MITCHELL CD she'd never heard of.
By a lucky coincidence of timing, Richard Curtis's wife, the broadcaster Emma Freud, was live tweeting a showing of the movie yesterday and – according to Vanity Fair's headline, Love Actually's Saddest Plot Just Got a Lot More Depressing.
Because of this:
@JPerlstrom they stay together but home isn't as happy as it once was.

— emma freud (@emmafreud) December 13, 2015
Really, Curtis should have written in a big celebratory divorce scene. Right?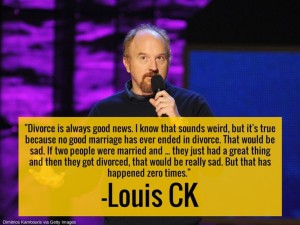 And if you can get past the fact that NOTHING IS HOW ANYTHING WORKS, there's fun to be had, and schmaltziness in which to wallow. As I was thinking about this blog post, I was particularly pleased to find that not only does Thomas Brodie Sangster (who plays Sam in Love Actually) voice the taciturn Ferb Fletcher in Phineas and Ferb, Olivia Olson (who plays Sam's crush, Joanna) voices Ferb's crush, Vanessa Doofenshmirtz.
As it turns out, the scene in which Joanna belts out Mariah Carey's All I Want for Christmas is You with Sam providing backing on drums almost didn't make it into the final movie. It's reasonably well-known that a number of the stories Curtis wrote for Love Actually didn't make it into the final movie. Some even got chopped in Curtis's editing nightmare. One involved Emma Thompson's son getting into trouble at school and the camera following the harsh headmistress home. Another is a little more… unusual.
Nerd Bait's Prof and I have been trying to dig up some tracks by our musical heroes, the endlessly luckless Bird's Fate, for Science Steph to check out. (More on that to come at nerdbaitband.com). And in doing so, we only found out that Love Actually was originally meant to include a side-plot in which Sam is seduced by a heroin addict from Motherwell! And as luck would have it, poor old Bird's Fate went as far as recording a cover of All I Want for Christmas is You!! It was kind of a last ditch attempt at the big time for Bird's Fate. A Christmas single. A movie tie-in. So of course Bird's Fate turned in something… well…
…I've described it as truly distressing. The Prof and Science Steph both opted for terrifying. Why don't you decide for yourselves? As a special Christmas gift for you – thanks to some detection chops and some production genius – for the first time, on the Nerd Bait Soundcloud page, Love Actually's final saving grace.
All I Want for Christmas is You as performed by Bird's Fate.
Happy Holidays!