Before my stroke, I hadn't written any creative prose – other than short pieces for my girlfriend – for years. Decades, even. After writing  a bunch of stroke-related stuff, the first post-stroke piece of fiction I wrote concerned a guy waking up in the Royal Botanical Gardens of Edinburgh with no  memory. Quite fitting, I think, for someone who had spent his teenage years among the pubs of Auld Reekie recently woken up from a major brain injury unable to remember the President, the Prime Minister, or his age. As befits a first effort, Dunedin was a little overblown, but I liked it.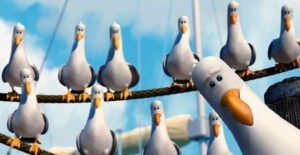 But we can get to that later. First….
[First? First, sign up for the apoplectic.me Tiny Letter here.
More stroke, more absurdité, fewer pictures of seagulls.]
Tiny Letter readers will know that Longsufferinggirlfriendoftheblogbeth and I went to see Mad Max: Fury Road the other week. Anyone who's seen any of the original trilogy won't be surprised to hear it's all very post-apocalyptic.
Clever apopostles will know that the apocalypse has been foreseen by film and literature since the beginning of time. And that's hardly surprising. In more recent years, H.G. Wells had not yet heard of the nuclear bomb when he wrote Mind at the End of its Tether, but having lived through the uncertainties of the end of the Victorian and Edwardian eras he was all set to write "the most pessimistic utterance in modern literature." Just a few years later, Orwell's 1984 came into being absolutely in the shadow of The Bomb and Stalinism.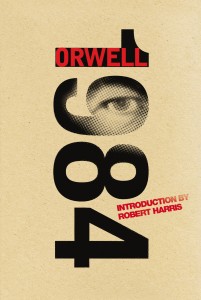 Blake's 7 and blog obsession Threads were part of a seam of depressive British sci-fi that emerged around the time of the country's impending doom amid the piles of dead bodies piling up in the streets during the Winter of Discontent, and the height of the Cold War arms race. The Wellesian Wall-E predicted catastrophe in the wake of an environmental armageddon. Fury Road seems to foresee a similar disaster. And this is all without getting into other images of The End inspired by Vietnam, The Sixties generally, the end of the 'sixties, or the forthcoming Clash of Civilisations.
Maybe people just like wallowing in this sort of stuff. Towards the end of the recent election campaign, the more left-leaning papers were envisioning Cameron taking power in a very A Very British Coup sort of a way. After the actual results came in, Andrew Rawnsley wrote of the UK's impending mini-apocalypse in The Observer. In the wake of the recent General Election, Furiosa's band of "jubilantly numerous Nationalists [are] now swarming around the Palace of Westminster," and with many other politicians and analysts, Rawnsley is freshly appalled by the prospect of huge swathes of the country never again getting the government they voted for, damnit.
Among all these examples, The End is usually presaged by some form of science. So, here are a couple of articles to inspire retro, '80s-style nightmares.
First, in Total Recall-fashion, manipulating memories news, here's a story about Amnesia researchers [using] light to restore 'lost' memories in mice. Hope for the protagonist of Dunedin, stroke patients, and Brain of Pinky and the Brain. The article concerns a long-running controversy in neuroscience, by which "some researchers [argue that anmesia] occurs when cells are damaged and memory cannot be stored, while others believe that the memories are simply blocked and cannot be recalled." This new study indicates that in cases of amnesia, memories do in fact remain, but are simply unable to be recollected. Nobel Prize-winning researcher Susumu Tonegawa of MIT said
The majority of researchers have favoured the storage theory, but we have shown in this paper that this majority theory is probably wrong…. Amnesia is a problem of retrieval impairment.
For what it's worth, in my one-man sample, that feels right.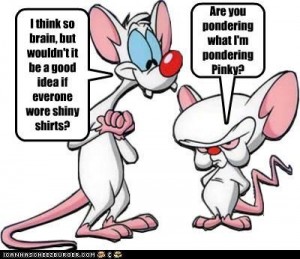 In this Dr. Strangelove-y piece, we learn that the U.S. Air Force has confirmed the existence of an electromagnetic pulse weapon manufactured by Boeing. The piece begins
Stepping out of the realm of science fiction and into reality is the joint U.S. Air Force and Boeing electromagnetic pulse weapon, capable of targeting and destroying electrical systems without the collateral damage often associated with traditional firepower.
To clumsily paraphrase the rest of the Digital Trends piece, the adorably nicknamed "CHAMP" (or Counter-electronics High-powered Microwave Advanced Missile Project), is an attempt to develop a device with much of the power of a nuclear weapon but with less of the death and destruction to people and infrastructure that such a weapon would cause. Theoretically, the new missile system would pinpoint buildings and knock out their electrical grids, plunging the target into darkness and general disconnectedness. CHAMP would allow military members to cut off electricity supplies to enemy parties while keeping civilians out of the melee.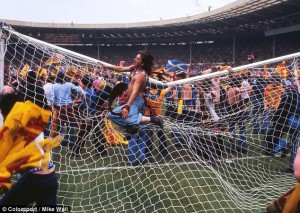 That is, most of the havoc and lawlessness, without as much damage to units of land, labour, and capital. The factors of production, if you will.
This is where Allan Harrison, the protagonist of Dunedin, comes in (he takes the name from an ID card he finds in a bag next to him when he wakes). It turns out that – spoiler alert – Allan has been affected by something that combines elements of both CHAMP and blue light memories triggers. In his erased memories, he's lost the connections that bind us to our families and neighbours and comrades and allies, and the ideologies that have been inculcated in us from birth.
Damn, in the light of these news stories, that's all suddenly topical – I should do something with it.
If Allan had been able to read the characters that he had uncomprehendingly stepped over, they would have made a noise in his head something like this:

PEOPLE'S REPUBLIC DENIES TESTING
FIRST NEUROMAGNETIC PULSE DEVICE
Gathering of NATO forces off Korean Coast Denounced:
'We will not rise to naked Western aggression,'
declares Minister for Defence
But that's nothing. If you want proper, Nostrodamus-invoking terror, I'll leave you with this.
If you hear a clap of thunder
But there is no sign of rain….
If you feel the wind arisin
Then it's like a hurricane
Then you know it must be Champion
Gallopin across the plain…
Oh, god.