This morning, Underworld's Second Toughest In The Infants is blasting through the living room, and I weigh about 155lbs. It's clearly 1996 all over again (except by then I already weighed more than that, student's beer belly and all),  so what better time to write a post about Britain's latest cuddly Socialist, Danny Boyle?
Notwithstanding Monday's post, I don't view *everything* through a strokey prism. In fact, during the past few days, particularly during the Friday-Tuesday rehab gap, I've noticed a couple of times perceiving myself as a regular, non-stroke-afflicted person. It's not that regular sensation has returned on my left side (it hasn't). And it's not that I can complete complex cognitive tasks without swiftly becoming exhausted (I can't). But that step still feels like a landmark on the road to recovery.
Some things, though, still default to the strokey prism. Self-reflection, certainly, and the examined life. Also art, whether it be theatre, opera, popular music or cinema. Most recently, I went to see Danny Boyle's Trance. I've held Danny's work in high esteem for as long as I can remember. Even before Shallow Grave, his debut feature, I was aware of his work in theatre and television.  Shallow Grave itself was a real eye-opener. I was so transported into the world and tension of the Edinburgh-set movie that when I walked out of the theatre, I was shocked to remember that I lived in Austin, Texas, and wasn't emerging from the Filmhouse or Cameo in Scotland's capital. Shallow Grave also served as early notice of Boyle's talent for casting and soundtrack selection, with a strong performance from Christopher Eccleston, a breakthrough from Ewan MacGregor, and Leftfield doing the bulk of the pulsating, tense choons.

Trainspotting…. Well, that I did see at the Cameo. Having read the book and seen the Harry Gibson's intense and memorable stage adaptation, and as a fan of Rebel Inc., I was more than ready to be disappointed. But from the first minutes, it's a fabulous adaptation of what read as an unfilmable book. And that cast…. A post-Cracker, pre-US pulp sci-fi Bobby Carlyle. Johnny Lee Miller convincing me for a good 15+ years that he actually was Scottish. Ewen Bremner showing brilliant range in switching from his role as Renton in the dark Gibson production to the comic relief of Spud on the big screen. Kelly MacDonald precociously anticipating her glittering career as the Lolita-esque Diane. And, at the center, Ewan McGregor holding it all together with that 1,000 watt grin and charm to spare.
McGregor pulled off a similar trick in A Life Less Ordinary, which, while (dis)regarded as a step backwards at the time, has aged well. Certainly, if you're a hopeless romantic and sucker for big Busby Berkeley blow-outs and Holly Hunter giving it the full angel with a heart of steel with a heart of gold.
Then, our Ewan was ditched and left feeling betrayed when De Caprio got the lead in The Beach, which, for its failings, showed the usual good eye for source material and cast. And on, through 28 Days Later, Millions, Sunshine, Slumdog Millionaire and 127 Hours.
Boyle says that winning the Oscar for Slumdog landed him the gig of artistic director for the opening ceremony for the 2012 summer Olympics in London. I've never been a fan of Olympic opening ceremonies, and usually avoid them. However, the combination of Boyle and the U.K. had us tuning in. And it was mostly pretty great.
From now on whenever I do Karaoke, I'm going to sing Hey Jude and just claim it's the 'McCartney at London 2012 Opening Ceremony' version.

— James Martin (@Pundamentalism) July 28, 2012
So, in my ongoing general state of positivity, I went into Trance at the AMC at 19th Street well disposed to the movie even before seeing a single frame. And it starred James McAvoy. And Vincent Cassel brought his own inimitable brand of Gallic sex appeal. And then there's Rick Smith's music. Then, in the first few minutes, we learn that McAvoy has suffered a TBI, and his memory's effed. And this is punctuated by a spacey insert of a brain under neuroimaging. Hooray!
Like seemingly every other movie that aspires to the middle brow these days, it was all very post-Nolan, post-Inception. As Wiki puts it, "Boyle deals with memory, dreams and the continual reconstruction of identity." Well, of course he does. Even one of the trailers before the action kicked off — like all trailers these days — was doing that whole Hans Zimmer thing.
The Inception soundtrack is awfully good, but I don't need a budget version on every movie since. #HONK #BLARE

— Ricky Brown (@ricky_ballboy) May 8, 2012
In a world of #HONK, Jason Segal is a loveable oaf who learns what's really important in #BLARE. #inceptionsoundtrack

— Ricky Brown (@ricky_ballboy) May 8, 2012
That wasn't the Nolan-esque issue in Trance. Smith handled the soundtrack chores as competently as one would expect, and the trance-y (ha!) beats you would expect from a movie by an arty British man of a certain age were happily present. And I did enjoy the line, "We keep secrets from ourselves and call it 'forgetting'." But it was self-consciously layered like an onion and interested in the power of suggestion. In this case, not through dreams, but hypnotism. The other things I was reminded of were the hypnotism shows I went to see as a freshman in Edinburgh. Most particularly, Hypnodog. In which my mate, Phil, was one of the volunteers and found himself threatening Hypnodog's handler (Hypnodog did all the hypmotism, natch) with a call to the police unless he returned Phil's trousers.
When we left that show, another student, who'd also participated, was sitting on the steps outside the student union, rocking to and fro and intoning, "I don't want to be a trained dog…. I don't want to be a trained dog….." In another show, we went to the old ABC cinema on Lothian Road, and our host began by testing our susceptibility to hypnosis. As he counted down from ten, the most suggestible among us would find our hands and arms fused to our chairs. I found myself feeling a bit sticky by the time he got to eight, and opted out before we got to the forced homosexual encounter in the onstage bathtub.
After all that, I've retained an interest in the subject. I mean, not to the extent that I've actually opened the copy of Derren Brown's Confessions of a Conjurer lying by my bed, but nevertheless….
Anyway, in Trance, all that stuff was, of course, wrapped up with a heist story. The hypnotherapist employed by the gang to help them find their missing Goya painting is queen of the nerds, Rosario Dawson. And the movie proceeds in a pulpy, B-movie, exploitation flick fashion, with lashings of misogyny along the way. I mean, I'm not saying Boyle's a misogynist. He doesn't seem the type. Although, I suppose, you never can tell. And…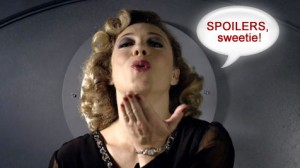 … Dawson's character does turn out to be the strong, clever one, a step ahead of the game at the end. But Trance is saying at the end, "I'm sorry I treated you so badly darling. It'll never happen again." And that doesn't really change the nature of the foregoing hour-and-a-half. If Trance was a character in a Lifetime movie, it would apologize for all its terrible behaviour and say "It'll never happen again, baby. I'm so sorry." And we all know how that ends up.
So, the apoplectic.me verdict? It comes in two parts.
I suspect Rotten Tomatoes got it right, saying "As stylish as ever, director Danny Boyle seems to be treading water with the surprisingly thinly written Trance — but for fans of Boyle's work, it should still prove a trippily entertaining distraction".
I probably need to see Trance again. Forming an opinion on a film about a guy with a TBI and its effects on his memory, identity and sense of shifting realities is pretty difficult when, well, you know the rest…