After a couple of meh episodes, Doctor Who was enjoyable this week. Hide was an intriguing watch, evoking the atmosphere of both Hinchcliffe and Holmes-style gothic horror and Bidmeadian hard sci-fi. What's more, it stars Dougray Scott as a man with a pleasant burr, a pair of Willoughbys, a duffle coat and an attraction to a woman who saved his life. (Possibly metaphorically, but that works, too.) Prime blog fodder, no?
Well, maybe not. I was recently told by someone with little knowledge of the statistics behind hemorrhagic strokes, and none of the workings of the Hunt Hess Scale, that I should stop over-dramatizing what happened to me in October of last year and get on with my life. So, no heroic narrative this week. And no allusions to epic romance.
In light of this invalidation of my experiences, it was a comfort to attend the most recent of Dr. Ayad's aneurysm awareness group meetings last Saturday morning. Everyone there had a story that they had clearly practiced many times. Each catalogue of disaster had been turned into a narrative. I suppose that a Brechtian distancing effect is needed in order to be able to discuss the events and results of a sub-arachnoid hemorrhage. Otherwise, it's all a bit "Yeah, so after they removed the catheter, I started learning how to walk again…."
Conversely, one of the attendees was keen to find out if she could somehow rebuild her memories of her hemorrhage. Dr. Ayad expressed some surprise at this. Who would want to remember all the blood and shit and piss and fear and uncertainty? A large number of us, as it turns out. Dr. Ayad observed that there seemed to be a gender split. The men in the room were incurious in this regard. The women (and your webmaster) wanted a clearer recollection of what had happened to them. A narrative, perhaps. And there is, it occurred to me, a way to do this. If one talks about The Incident and The Aftermath often enough and with enough people who were there, the repeated details build something akin to a memory. It's like a childhood memory where you're not sure if you actually remember the experience, or just the details practiced in telling the story or hearing your parents repeat it. In any event, it did seem that the aneurysts wanted an understanding, a narrative, of what had happened to them. Again, that human desire for meaning behind the inexplicable. I said it once before but it bears repeating: What's the point of having a catastrophic hemmorhagic stroke if you're not going to take something from it?
I wasn't looking for anything as high-fallutin' as the meaning behind the inexplicable when I got our tickets to Mayday Mayday at the new St. Ann's Warehouse. More, just a date night off from the world of unemployment and personal disability. And, the flyer email from St. Ann's included a blurb that had a great deal of resonance for me, personally.
In 2004, an elated father-to-be [and the writer and star of our entertainment], Tristan [Sturrock] was celebrating the coming of summer when his life changed in a moment — he fell off a wall, and it nearly killed him. Mayday Mayday takes us through Tristan's personal tale of recovery with great wit, a few props and some grand opera.
And, I've got a certain fondness for St. Ann's. I've seen a number of good shows there; most recently, we've caught Beautiful Burnout and Daniel Kitson's It's Always Right Now, Until it's Later. And whenever I go there, I'm always struck by the quality reflected in the show posters arrayed in the loitering area. Did I really miss Tindersticks passing through town, like, a million years ago?).

St. Ann's Warehouse has moved recently. I mean, not the building. The performance space. It's now on Jay Street, though still in DUMBO. Notwithstanding that it presents two doors to the street, the facade is quite anonymous, even though St. Ann's has a lot to be proud of. But, the new space does have the advantage of being three short blocks from the York Street F stop, rather than being hidden deep in a labyrinthine warren of DUMBO streets.
So, we were there in plenty of time, and, after chattering over a couple of drinks and perusing our programmes, we made our way to our seats. Tristan's "Note from the Performer" made intriguing reference to Frankenstein:
I had read Shelley's novel during my recovery and I recognized the connections: the creature's discovery of his senses, his reanimating limbs, the dead coming back to life in the hands of a surgeon.
I was already positively disposed to the show, but as we took our seats, the stage layout further raised my levels of intrigue and expectation. Imaginative and thoughtful production turned out to be a theme of the night, from the sets to the sound production. (Tristan's partner, Katy Carmichael, acted as director and producer, while another member of the Sturrock family filled the role of sound designer.) In that vein, the night's entertainment began as we watched Tristan falling in slow motion. This effect was achieved by the use of a mirror set at roughly 45 degrees to the audience, under which Tristan lay on floor, slowly flailing his limbs. He's been recognized for the physicality of his performances, and this was just the start of a masterclass in physical acting. The pertinence of an early reference to Buster Keaton became clear; I could hardly tear my eyes from our leading man through the rest of the night. And my girlfriend's cute. The narrative built as we found out about the setting, Padstow, a fishing port on the north coast of Cornwall, the celebration of May Day in the area, with all the echoes of birth and rebirth, our hero's newly pregnant girlfriend and the drunken fall from a wall that shattered Tristan's cervical spine; more specifically, his C5 vertebrae. The moment of the realization of impending death is captured perfectly: "The past was vivid; the present was tranquil; the future was… fading."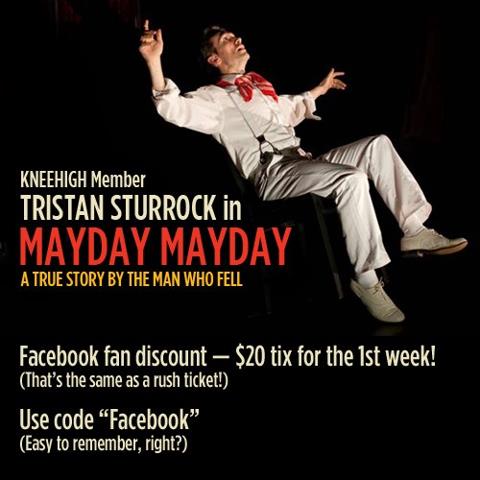 This was all interspersed by a one-man cast of comic characters from the wise-cracking EMT to the Olivierian surgeon. And also, even more true to life, real time drama, as chatter broke out just behind and to the right of us. As the tension grew onstage, a minor commotion arose among the audience. Amid the imaginative production design, I thought that this was part of the show; the pending medical drama onstage bursting through the fourth wall, as we realized how vulnerable each of us was. Then, the classic line rang out: "Is there a doctor in the house?!" Notwithstanding words like "seizure" and "heart attack" floating through the theatre, the afflicted audience member was able to depart for attention under his own steam, to a warm and encouraging ovation from his fellow theater-goers.
After Tristan had briefly and endearingly engaged the audience, noting that a similar incident had happened at a similar juncture in a prior performance, the show, as they say, went on. The evocation of the ICU was so true to life in its spirit that Beth was removed to a similar scene at Methodist Hospital, and moved to tears. I quickly followed, in some sort of combination of the drama onstage, the remembrance of the melodrama of Strokefest 2012 and regret that I hadn't really contemplated the potential intensity of this romantic evening out.
Fortunately, the rest of the night passed in an enjoyable blend of humour, invention and tenderness before [spoiler alert!] stage Tristan emerged, intact and operational, from the hospital. Almost ten years after the events depicted in the play, Mayday Mayday is the recipient of an Edinburgh Fringe Review Outstanding Theatre Award and a host of five-star reviews, Tristan has received excellent notices for Mayday Mayday and, previously, Brief Encounter, and he and Katie are parents to three kids in Cornwall.
If you get a chance, I'd strongly encourage the New York apoplectics to catch Mayday Mayday, a beautifully observed reconstruction of humanity in extremis. It's a better way to do it than inducing your own neck break. Or stroke. But still affecting enough to elicit a visit to the Clover Club for a practically post-coital post-theatre snack of deviled eggs, a couple of Horse Thieves and the best mac'n'cheese in the five boroughs.
And that's a win.

Mayday Mayday is playing at St. Ann's Warehouse, 29 Jay Street, Brooklyn, through May 5.