Hello, and welcome to apoplectic.me's occasional round-up of strokes in the news. It's been quite a week….
Awards Pour In!
I saw #TheRevenant. Leo drags a useless leg around for ages, while grunting incomprehensibly. Aah, memories. #stroke pic.twitter.com/VKK1qYNnWC

— Ricky Brown (@ricky_ballboy) February 15, 2016
[More stroke blog inanity and whimsy here.]
The Revenant mauled the competition at the BAFTAs last night. Now, you might say that I'm a bit quick to make every movie I see all about strokes. Perhaps most notably Warm Bodies, but also Inside Llewyn Davis, Gravity, and many, many others.
But Leo's turn in The Revenant seemed particularly literal. A reminder of Friendoftheblogjen's old remark that for many of us, the story of a stroke is a story of extreme survival.
Well anyway, hopefully Leo can get any Oscar for The Revenant and quit with the self-consciously Oscar-y turns. Though having said that, The Fabulous Beth finally press-ganged me into watching The Wolf of Wall Street the other day, and that was tremendous fun. I loved him in The Departed, too.
Sspeaking of Inside Llewyn Davis, I'm looking forward to seeing the Coen brothers' new one, Hail, Caesar! Wonder how I'll be able to crowbar a stroke reading into that one…?
Dawkward!
Part-time evolutionary biologist, occasional blog contributor, and full-time social media troll Richard Dawkins suffered a minor stroke on 6 February. Even in the immediate aftermath of his stroke, Doctor Dawkins managed to provoke a Twitter storm.
I've often reflected on how important it was to be able to get back on Twitter in the immediate aftermath of my stroke, and reconnect with the world. Dr. Dawkins didn't even have to post a tweet to find himself in the middle of a twitterstorm.
Prayers for Prof Dawkins and his family https://t.co/KxBBkBrECk

— Church of England (@c_of_e) February 12, 2016
On first hearing about this, I was minded to join the baying mob of Dawkinites in assuming that this was a bit of top trolling by the CofE. I was reminded of how much of my strength in fighting back from my stroke was mined from a very humanist worldview – that I was going to have to help myself, while drawing on the love and support of friends and The Fabulous Beth.
I still get pretty annoyed when I recall that there was a debate by my bedside as I lay unconscious in my hospital bed, regarding whether I was religious. Like a reformed smoker, this former Sunday school teacher is quite staunch in his preference not to be observant of religious rites. Even if I do like a good hymn.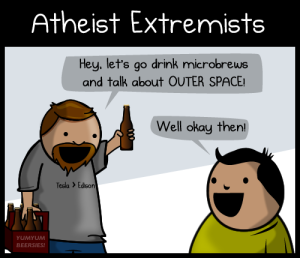 As regular readers will know, I'm also rather interested in the King James Version of the bible. In fact, Nerd Bait's next opus draws pretty heavily on that text. And will premiere at the Edinburgh International Science Festival, natch.
Eventually, after I regained consciousness, a young clergyman of some type did turn up for a chat. I was happy to have the company, even if I don't quite think he was quite getting where I was coming from. So, with a nod – I think –to arch atheist Christopher Hitchens (and having meditated on the matter), I'll be quite happy for folks to have a wee prey to themselves next time I'm at death's door.
Although I'd prefer chocolate.
And finally…
…an update on last week's post.
It seems that Jeremy Hunt has raised the stakes in his war on junior doctors from misrepresenting stroke stats to imposing a new contract on the on the caring, considerate, hard-working bastards.
So that's nice.
Coming Soon…