As I noted last week, you can measure out an Edinburgh life in festivals if you're so inclined. And the 2015 Festival, and Fringe, and Book Festival all come to a close today, in a blaze of sunshine (as of 10:13 am BST).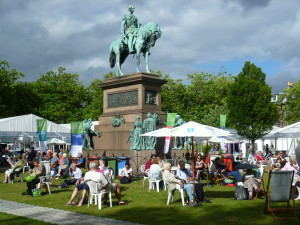 [As apoplectic.me returns to its usual programming, please sign up for the Apoplexy Tiny Letter.]Regular readers will not be surprised to read that my Festival, this year, was centred around the writers' and readers' Disneyworld that is the Edinburgh International Book Festival. I've been fortunate to attend appearances by blog subjects Iain Macwhirter, Edwyn Collins and Grace Maxwell (hosted by Ian Rankin), and James Rhodes, as well as Kate Tempest with Don Paterson who danced poetically, interestingly, and humourously  across various aspects of poetry, creation, performance, and democracy that are of interest to me and this blog. I also had the pleasure of seeing friends August Siena Thomas and Rebecca Raeburn read as part of the Storyshop thread.
In addition to all that, there was also the rather lovely free, drop-in Jura Unbound late-night strand in the Book Festival's Spiegeltent, where we saw the Bingo, Beats and Bigmouth night anchored by Art Brut's Eddie Argos. Since we're year-round supporters, I only felt a little guilty about missing the Unbound nights hosted by the lovely Rally & Broad and Neu! Reekie! due to clashes.
And we did make it to Illicit Ink's night of twisted fairy tales in the Spiegeltent, where Tom Moore introduced Emily Dodd and Halsted M. Bernard giving Sleeping Beauty and The Ugly Duckling hard sci-fi twists, Pab Roberts told the story of Jack and the Beanstalk from the perspective of the cow, Sian Bevan was a sensitive and only-slightly bad-tempered Rumpelstiltskin tormented by a hand puppet, Keith Gray presented Goldilocks and the Three Bears as a choose-your-own-adventure story, and the night was closed by author of Dalek and the deathless short story collection Tiny Deaths, Rob Shearman, giving us the tale of Snow White as we'd never heard it before.
But I'll cut things short there, for today. Having interviewed Doug Johnstone about his domestic noir and writing stories set in Edinburgh and environs, I'm off to interview Caroline Criado-Perez about her work as a feminist activist and journalist. We saw her as part of a panel of writers last night each presenting, in one for or another, why they are feminists. It turns out Caroline's origin story includes reading a book on linguistics. So I can't wait to talk to her some more about this.
Anything else?