On 2 May 2015, Princess Waynetta Diana Alexandra Windsor was delivered unto the Duke and Duchess of Cambridge and a grateful nation. While the birth was being announced on Twitter, the journos who needed to stand in front of a thing were gathered to await the announcement of the annunciation on an easel on the forecourt of Buckingham Palace.
In a kind of Bizarro Spiderman moment, said journos were already concerned about the effects the terrible pressures of privilege without responsibility might have on young Waynetta.
Want to keep up with all the latest #RoyalBaby news?
Sign up for the apoplectic Tiny Letter!
Younger readers will be no doubt be aware of the travails of hilarious young rake about town, Prince Harry. I was interested to refresh my memories of Elizabeth Windsor's late younger sister, Princess Margaret. So of course, I turned to the diaries of noted royal-watcher Auberon Waugh. Waugh covered the Great Debate in 1982 as to whether  the Princess of Wales's newly-born son should be circumcised. Readers of my vintage will remember that in an echo of today's politics, it was suggested that the matter be put to a national referendum.
Taking a desultory flick through a collection of Waugh's 1972-85 Diaries, I'm disappointed to find a paucity of entries concerning the late Countess of Snowden, although Waugh does make reference to her "wittily calling the Irish 'pigs' at dinner with the Irish-American mayoress-person of Chicago. All over the country people are raising their glasses to toast the Bonnie Princess." He goes on to reflect
This  makes me rather angry. For the last fifty-six years this woman has been flouncing around embarrassing everybody with her rudeness, self-importance and general air of peevish boredom. Now it looks as if everything will be forgiven for the sake of one bon mot.
Not the deepest insight one might receive regarding the Princess, but at least the cover of the collected diaries bears a representation of an incident at Waugh's Scottish home in 1985, of "the Queen dancing the hokey-cokey in a paper hat," and "Princess Margaret trying to demonstrate a Cossack dance."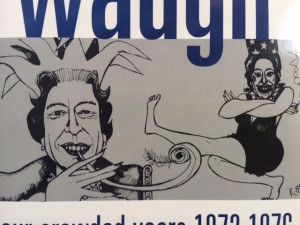 This is not to belittle the sadness of the late Princess's life; I turn in desperation to my friend Ian Wiki for some reflection of the true adversity that Margaret faced in her life. Imagine my shock when I read that – in this week that Jimmy Greaves, England's fourth-highest goalscorer, Spurs' leading goalscorer, and successfully-recovering alcoholic since 1978, entered intensive care after suffering a severe stroke – Margaret suffered a series of at least three strokes between 1998 and 2001, before dying of another brain attack in 2002.
In a week that the opinion polls tell us may lead to Buckingham Palace having to take a constitutional role in accepting a visit from David Cameron or Ed Milliband, it's comforting, isn't it, to be reminded that the royals, and English football players, are just like us?
[Next week, Crime Novels and The House of Lords…]