As we journey through the winter solstice festivals, it's a time for reflection. My pal Andy likes to use Shabbat as a weekly milestone to gauge (and possibly adjust) his trajectory, noting that it's a bite-sized amount of time that lends itself to this kind of exercise.
Passing from one calendar year to the next lends itself to a similar exercise, but taking a view of longer cycles. Having passed solstice, while dawn is staying at roughly the same time in Edinburgh, we're slowing digging out from absurdly early sunsets and striking out towards the long evenings of summer. This is to say, I'm looking forward to packing up 2014 and embarking on 2015.
[Though, not until you've subscribed to the apoplectic Tiny Letter here.]
I'll be doing this with the assistance of an end-of-year show. I've always enjoyed these. The current king of this type of show is part of Charlie Brooker's Screen/News/Weekly Wipe empire. I've been a fan of Charlie's for many years, now, and it's great to see his gimlet-eyed, dyspeptic worldview gaining transatlantic traction. We've finally started watching Brooker's Black Mirror (see apoplexy passim). Binge-watching, actually.
It's a terrible show to binge watch, for all the right reasons. The first two seasons are just three episodes long each, and each stand-alone story is almost too intense to follow too quickly with another. And this, note, from a guy who can watch entire seasons of The Wire and Breaking Bad in the immediate aftermath of a stroke.
In the run-up to the first season of Black Mirror, Charlie Brooker wrote about the show:
If technology is a drug – and it does feel like a drug – then what, precisely, are the side-effects? This area – between delight and discomfort – is where Black Mirror, my new drama series, is set.
Long-time readers of apoplectic.me may remember me writing about the devastating episode, Be Right Back, which deals with a widow's interactions with a doppelgänger of her husband made from social media posts, uploaded emails, and synthetic flesh. The post is at the "passim" link above.
The review of the year and the algorithmically-constructed person meet my obsession with the personal narrative in Facebook's new end-of-year feature. You've probably seen it. I just gave it a go.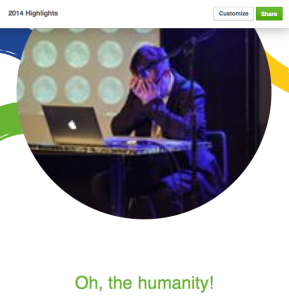 I've sort of been falling back on the Facey Book while I get round to doing a proper reorg of the Tweetie Box. It's been pretty good for keeping up with the folks in my class; we've got a page for the class, and a page for my workshop group. But it's not perfect. I get the impression that my news feed has an inclination not to throw in the occasional post from outside my favourite posters, which defeats one of my objectives — having a sort of cloud of awareness of my friends activities, regardless of face-to-face interaction. But there are other issues, too.
You may be aware of the misfortune of Eric Meyer, a web design consultant and writer, who was confronted with a picture of his daughter, who lost her life to brain cancer in 2014, when his newsfeed provided him with a personal prompt to think about using the "My Year in Facebook" feature. There's a piece about his response, and Facebook's response to his response, here.
Aside: Longsufferinggirlfriendoftheblogbeth has just reminded me that, when I was in hospital, I was freaking out about the fact that Facebook was tracking my every move. She told our friend Cole about this, and he responded
Well, that sounds pretty reasonable.
Another, quite different, issue is that Facebook militates — in some ways — against the kind of mindful examination of personal narrative this blog keeps on banging on about.
On the one hand, encouraging the impulse to share and connect and communicate is a good thing. But the kind of sharing and connection and communication effected by Facebook isn't entirely honest, even if that dishonesty is the dishonesty of omission. A Boxing Day article in the New York Times by Hannah Seligson, Facebook's Last Taboo: The Unhappy Marriage, drills down on one facet of this issue.
It seems like this last taboo is being broken, at least in a recent spate of conscious uncoupling posts by people who…. Well, let me put it like this — how on Earth could the man who wrote The Education of Millionaires: It's Not What You Think and It's Not Too Late and the woman who wrote Pleasurable Weight Loss fail to unlock the secret to happy marriage?
Like many couples on Facebook, they were managing their marital brand, even after its dissolution, creating and honing their message much like a corporate news release.
That might seem uncharitable, but apparently they spent months crafting their post for their thousands of followers. How one handles the public dissemination of divorce and relationship strife is affected by countless variables that aren't easily distilled. I suspect my public discussion of the years and years through which my divorce wound would, with a suitable and useful dash of self-cross-examination, be more open and useful if my lawyers hadn't already felt the need to advise me to shut down my consciously inoffensive social media and this innocuous little blog. I'm like a younger, less-widely-published, Hanif Kureishi, without the juicy bits!
That is to say, there can be very good reasons both for not airing marital discord on social media and for putting out a positive "spin" on the end of a marriage or civil partnership. As for the first, it's an example of just the kind of exercise of good judgment that Dan Savage tells us people look for in potential partners. I unpack the latter in this week's Tiny Letter.
I did notice, though, that the comments to Facebook's Last Taboo were of an infinitely higher standard than those at the Pulitzer Prize winning paper that Charlie Brooker writes for. One comment discussed how the private, personal diary seems quaint, antiquated and odd in modern times.
Like so many aspects of our lives, the sands of how we communicate are shifting. I'd like to suggest that keeping a personal diary is a great idea to help with the problem raised in recent apoplectic.me posts:
…how can we paint our paintings and write our stories — and live our lives in linear, forward-facing directions — without allowing ourselves unfettered access to our past experiences?
Black Mirror has had a pick at the scab of how this might work "in 10 minutes time, if we're a bit clumsy." In The Entire History of You, an episode by Jesse Armstrong that has been optioned by Robert Downey for a potential Hollywood movie (sez Ian Wiki), things go a bit pear-shaped at work for a youngish lawyer. His marriage disintegrates at around the same time.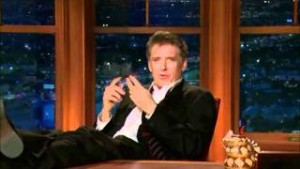 The twist is, Liam's sabotaging of his marriage is triggered by his 'grain'. Or aided and abetted — one review suggested "the technological element wasn't so crucial to the trajectory of the story. Jealous people will always find ways to destroy their relationships without the recourse to memory databanks."
A grain (interface below) is a piece of nano-tech implanted behind their ear which records everything they do, see or hear. This allows memories to be played back either in front of the person's eyes or on a screen, a process known as a 're-do'.  A hyper-modern personal diary, if you will. Or, if you're playing a re-do at a party with friends, a hyper-modern share.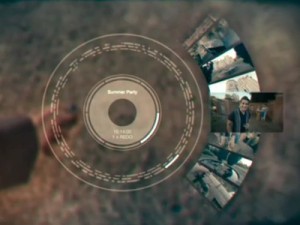 Maybe keeping a old-fashioned personal diary in the New Year is a good way to go. It is that time of year, after all. But I don't think I'll be starting a diary in the New Year. I'll stick with my Christmas present of Wreck This Journal. With all the writing I've been doing since the beginning of the school year, whether for workshops or competitions or portfolios or submissions or blogs or Tiny Letters or Nerd Bait or other performances, I've let my daily twenty minutes of unstructured personal writing slide. Maybe getting back on that makes for a good resolution. That, and maintaining the stance best adopted when using information sifted for a diary or a blog or a grain for guiding future action: First,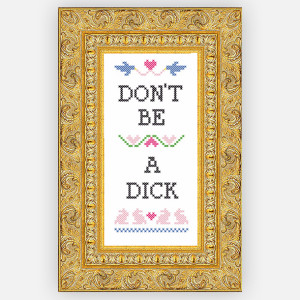 Happy Hogmanay, everyone!