It occurred to me this morning that, maybe, this blog is about death. A near death experience will do that to a person.
Or maybe, I just haven't recovered from watching The Thing last week. Or maybe Mrs Stroke Bloke and I just went a little hard on our binge watching of The Good Place.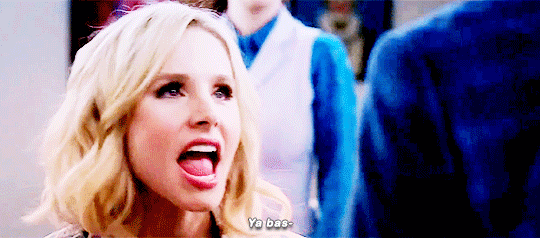 Except of course, The Good Place isn't about death, really. It's about life.
And the tsunami of famous deaths since Bowie kicked off the craze in early 2016 just keeps rolling with the death last week of Mark E Smith of The Fall…
[Have a wee apoplectic aperitif over at the Apoplexy Tiny Letter, or read on…]
If you read the Tiny Letter, you might recall me sharing The Fall's Industrial Estate as a soundtrack to this post in September 2016. And that's how one's meant to comes across The Fall, I think. As Stewart Lee would say of one of his routines, you have to try a little harder. Tuning in to the Grammys or the Brits ain't going to do it.
After hearing John Peel continually bang on about his favourite band late at nights back in the day, I was finally awake and alert enough one night to really tune into The Fall's Freerange as part of the band's sixteenth of twenty-four Peel Sessions. It also featured a waaaaaay too long version of Immortality.
I was the magic age: 17. If you're a pop music obsessive, you don't forget the music you loved when you were 17.  And although The Fall were never my favourite band, I did see them play Freerange at my favourite place in the world a year and a half later. It was one of those chaotic gigs that the ironic students and intellectuals who Mark E Smith probably hated (Hi, mom!) would glory in.
MES started throwing punches after Reckoning, the target of his venom being the soundman and Karl Burns, allegedly…. This might account for the very short set.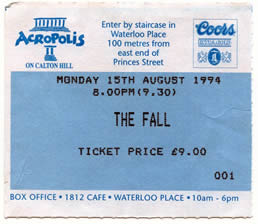 It wasn't so funny when this particular period of heavy drinking and low band morale climaxed in New York four years later with three band members quitting after an onstage fight and Smith being arrested for assaulting his girlfriend and keyboardist, Julia Nagle.
Ian Wiki continues, Smith was ordered to undergo treatment for alcohol abuse and anger management. After a period of good behaviour, the charges were dropped.
Yeah, what with that, and reading the interview with Mark E. Smith, Shane MacGowan, and Nick Cave above, I absolutely wouldn't have wanted to be in a room alone with Mark E. Smith. Not least, cos I'm not 17 anymore. This guy writing in Flux was hugely into The Fall from 1979, then opted out around 1989. Of course. The Fall was a band named after a Camus novel, and his soundtrack to finding out about the world and passions and betrayals.
I also wouldn't have wanted to be in a room with Mark E Smith cos he really seems to have been a bit of a an utter dick. Here's a American superfan in the AV Club trying to square that with being a fan.
So, how do I feel about Mark E. Smith now that he's died? At sixty, no less, after many years of poor health? It doesn't really matter; Stewart Lee nails it.
Tributes to artists often end up being more about the person writing them, [and] MES provided me with an alternative education, looping me into Camus, and Arthur Machen, and William Blake, and Can, and dub and old garage punk and rock'n'roll.
Well, I already loved Camus when I heard Freerange, so maybe it was the other way round. But, together with Scorn, The Fall got me into dub. And maybe this post isn't so much about death as it is about life.
But, anyway. Enough about me.
SaveSave
SaveSave
SaveSave
SaveSave