Phew! What a week!
16 April was the deadline for turning in my Spring semester portfolio. And of course Illicit Ink's Apollo 21, co-starring Stroke Bloke, premièred the prior night at Edinburgh's Royal Observatory on Blackford Hill. I'd like to think that Apollo 21 wouldn't have been possible in its final, polished form without – in addition to great performances and writing by the whole team – the contributions of my super-talented Nerd Bait bandmates Steph the Brain and Professor Paul, who soundtracked the whole thing.
When I say it's difficult to listen to this without crying, that's a good thing. But don't just take my word for it – thanks to 1 Proton 1 Electron for this lovely review.
[You can check out the rest of the soundtrack on Nerd Bait's Soundcloud page.]
So when the weekend rolled round, Longsufferinggirlfriendoftheblogbeth and I were ready for some R&R. Counter-intuitively in light of our recent conversion of all of our music artefacts into digital formats, we headed into town for Record Store Day UK. More specifically, Coda Music on The Mound, where we met up with our pal Guillermo and saw locally-based band King Eider play a short set. I think we'll be heading out to see them play The Caves on 1 May for their EP launch.
Emerging onto The Mound, we could see it was a beautiful day for wandering around Edinburgh, so we headed down the Playfair Steps towards Princes St. Gardens.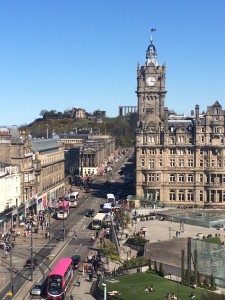 Guillermo had previously been kind enough to bring us a couple of copies of his father's latest book of poetry, La Voluntad del Sueño. So we got to chatting about that. Beth's Spanish is far superior to mine, but I was at least able to note that the English translations in the book flow with a beautiful rhythm that I guess retains the poetry of the originals.
Guille got to telling us that his father is currently finding himself inspired by a recent visit to Edinburgh. I could relate. Subscribers to the Apoplexy Tiny Letter will know that I recently received news a short story of mine set on and around Calton Hill will be published together with the winner and other short-listed entries to the Palimpsest project's Writing Edinburgh competition. It's interesting, I think, when a particular inspiration elicits different responses.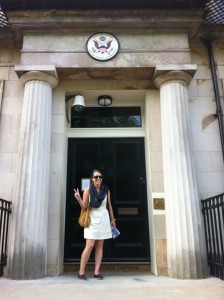 A classmate recently told me that her group's workshop once had a session in which multiple contributors – quite unrelatedly – presented works focussed on the same subject and came at it from very different angles. That's the sort of thing I'm talking about. Another week, in a seminar on using detail, we read Ron Carlson's The Governor's Ball and Italo Calvino's Distance of the Moon. While these stories took quite different jumping-off points, they were both packed with detail. Yet one was grounded in a world of hard liquor and filthy mattresses, set literally on the wrong side of the tracks; the other was set in a fantastical world where on a good day you can reach the moon on a ladder  and collect moon-milk.
Yet… they were both concerned with the obstacles we find and erect to human connection, and its Platonic ideal of sorts (or perversion), romantic love.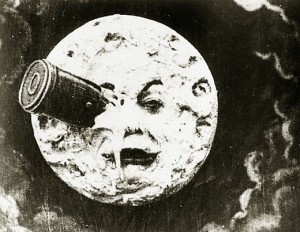 I found it interesting that these thoughts broke free of earthly constraints and made their way to the moon. It's a subject that keeps cropping up for me. Many months ago, I wrote a haiku about the moon that I was very happy with. Another poem, Moonbeams, was the lyrical cornerstone – I think – of Nerd Bait's Wrong Word Write Time, our long-form concept single about a test pilot who never quite makes it to the moon.
Quite early in our relationship, one of the "mixtapes" I made for Phonefinderoftheblogbeth was comprised of songs about the moon, in one way of another. There are a lot to choose from. Even in my personal collection, there's Fly Me to the Moon, Moon River, Moonage Daydream, Moonraker, More Like the Moon, Painted Moon, Pink Moon, My Moon My Man, The Killing Moon….
You get the idea. The opening scene of Donnie Darko was meant to be soundtracked by Never Tear Us Apart, which is good, but….
Which brings us full circle. Or full moon, if you will. Apollo 21. What is it about the moon that fascinates us so? It's different for everyone, I guess, but I'll hazard that it's something to do with it hanging there right in front of us. Somehow unimaginable and unattainable, yet the Apollo Guidance Computer that tracked every one of the Apollo missions – except Apollo 21 , which was an unofficial pirate thing – had a processor speed of 1MHz, a memory of around 4kB, and a seven-segment numeric display.
For comparison, if you've got an iPhone 5s, its processor speed is 1.3GHz, its memory is 64GB, and its display is "a  4-inch diagonal Multi-Touch display, 1136 x 640 pixel resolution at 326 ppi". (Thanks to The Daily Crate for the stats.)
Margaret Hamilton next to Apollo flight computer code she hand typed @MIT to help send humans to the Moon in 1969. pic.twitter.com/XC7BfSge96

— Andrew Rader (@marsrader) April 17, 2015
And thanks to Longsufferingreaderoftheblogpaul for RT-ing that pic.
It's common, I know, to present those contrasts in computer power with an eyeroll and a "Look at what those folks did; and we're just playing Candy Crush."
But I think another reason the moon still fascinates us in the early C21st is that, heck, the human race sent a bunch of people up there with those shitty computers, and brought them back, too. There's something about that aspiration that's inspiring, right? I think that's one reason why, in Apollo 21, my character Jeffrey loves Tara Beckett so much.
That was always it, though. Your intelligence. Your unquenchable thirst for knowledge. Always wanting to learn new things.
Aspiration. It's why he manages to balance the cheque book while Tara's away. Even if it does take five goes.
You're all beautiful. Have a great week.