As I walk across the tarmac, Copenhagen Airport's Terminal 3 stretches before me and away from me. As its location requires, it's the height of good taste in modern design, all low-slung glass and steel. Inside, it looks like an airport in a world capital of design should — like a 23rd century version of Monet's Gare Saint-Lazare.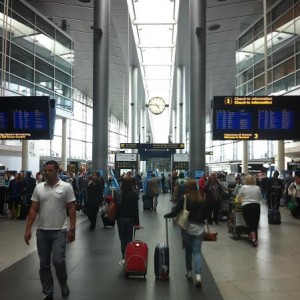 Clear signs direct passengers to their destinations without a serif in sight, even if there is a surfeit of odd åccents. The smooth-running luggage trolleys make the visual music of tiny metal harps. The transfer between terminals 2 and 3 is easily accomplished on foot under a low-profile metal canopy that discretely protects the passenger from rain.
But as the weather and the identikit procession of tall and handsome northern Europeans indicates, we're not in the British Isles any more. The sleek utilitarianism only pauses when logic and sign-posting is abandoned in the duty-free area. There, as in every bastard airport in the world, function demands we be left to navigate our way through the maze of sweet-smelling booze and intoxicating perfumes on our own. (You know, world-record-priced bottles of whisky tend to be sold in airports.)
No wonder then, that Carlsberg posters proclaim we are entering "Probably the happiest country in the world.*" Even the asterisked disclaimer is more of a bolster, citing the UN survey that supports the claim. Things reach an acme of absurdity as I pass through a security check that has been voted the best in the world.
But of course it has. No-one is being pissy. They're too busy being happy and purring at items of thoughtful design like the slot from which individual conveyor belt trays emerge quietly and mysteriously. I feel like I've walked into some far-future Doctor Who utopia (not that one.) Things only become difficult when it emerges that my one-way ticket to New York (actual New York, this time) will not permit the representative of Norwegian Airlines to let me on the plane.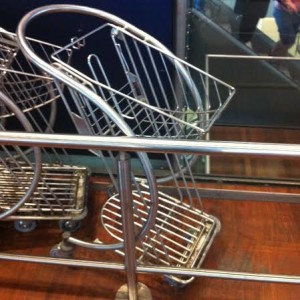 Fortunately, I'm able to put myself in the capable hands of Mrs Stroke Bloke, who efficiently takes care of the problem. In the afterglow of Carers' Week, I note that it's been too long (hopefully not that long) since I expressly noted how our love has made my recovery — such as it is — possible. Having her matter-of-fact brilliance directed to my assistance in a simple act of love is always humbling and deserves to be acknowledged in this moment of calm.
Not so long ago, I could have negotiated this obstacle on my own, with a sturm of bluster and fury, key-tapping and credit card waving. International professional, remember? And it's at times like these that I'm jolted out of the new normal. I mean, the mental defecits and the endless left-sided discomfort aren't normal, but they're, you know, my normal. My viewpoint has shifted, and most of the time I'm just me. Until I find myself waving and drowning as events whip by like debris in the rapids.
The new normal reminded me of a basic psychological trait I recently read about in George Monbiot's discussion of the anaemic nature of the current national Labour Party in the UK: Shifting baseline syndrome describes how, under certain circumstances, we can "adjust to almost any degree of deprivation… imagining it to be natural and immutable."
He also discussed the values ratchet or policy feedback whereby
[i]f, for example, your country has a public health system that ensures that everyone who needs treatment receives it, without payment, it helps instil the belief that it is normal to care for strangers, and abnormal and wrong to neglect them. If you live in a country where people are left to die, this embeds the idea that you have no responsibility towards the poor and weak.
There's not much I can do to arrest the decline of Scotland's version of India's Congress Party, a political behemoth that has grown lazy under the weight of its own size and success. Except to continue to vote in a way that reflects my own values, of course.
But I'm inspired, once again, to do what I can in the world as an individual. I recently checked the box in a vocational questionnaire agreeing, more or less, that it would be lovely to be able to design and make the sorts of things that could improve people's lives in a northern European airport. Then I checked the box saying, more or less, that the most useful thing I can do with a hacksaw is get its blade confiscated at Edinburgh Airport. But being surrounded by doctors and nurses and therapists and administrative assistants and friends and family who have been there for me in the past two years in particular has proved the possibility and existence of individual baseline shifts and pocket values ratchets.
Thanks to all of those people for their inspiration. I'll continue to try to shower them with gratitude and love and everyone else with reflections of their kindness.
Now, how to extend the lever of that ratchet…?