If you're reading this after last week, I guess we're still here. Or, at least, you are.
And yes, me too, still thinking about the dissemination of ideas through graphic designs and logos and t-shirts.
[Or you could just go a listen to a tune at the Apoplexy Tiny Letter.]
After all that reading about graphic design and suchlike, it turned out that I'd already seen a more interesting article about Subverting The Message. Fashion bloggers, the guy in charge of the branding of DHL in the 90s, the Daily Mail, and Guardianistas BTL were all getting pissy about a new t-shirt being sold by the label Vetements for £185.
Yeah, Vetements had taken the DHL couriers' t-shirt, extended the stripe around the back, adjusted the fit to be bunched at the waist, and increased the price by 4,111%. And, given the people that annoyed, it was a pretty awesome move.
Y'see, Vetements Georgian leader, Demna Gvasalia, has probably given some thought to what he's doing here.
"They are hacking the fashion system, and they're credible [enough] to make these statements of capitalist kitsch."
The article in the Grauniad expands:
I[Vetements] has staged shows in gay nightclubs and Chinese restaurants in unfashionable areas of Paris since launching in 2014. Previous collections have included a jumper like the ones worn by security guards in France and a mac similar to those worn by German police… Of his aesthetic, a grinning Gvasalia has said: "It's ugly, that's why we like it."
To be honest, if he knows what he's doing, he's way ahead of me. Long-suffering readers of the blog may know I did a full-semester seminar – and completed a well-regarded dissertation in the Critical Legal Theory tradition, I might add – in Intellectual Property Theory. These days, I still wonder about whether it's possible to to make money from art while being an artist, and what the function of IP is in that question.
It's the sign of a good education that when you're done, you end up more confused than when you started. Just ask Tristram – Krazy Name, Krazy Guy – Hunt. Son of Baron Hunt of Chesterton, educated at University College School and Trinity College, Tris "took a First in History" and is now director of the V&A Museum.
And, befitting a contemporary of David Mitchell and Robert Webb in the Cambridge Footlights, he's got a great sense of humour. As his tenure as Shadow Secretary of State for Education attests.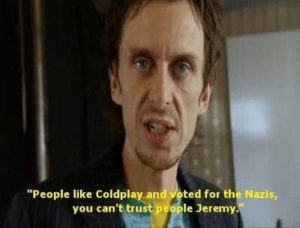 Join apoplectic.me next week, as Trist displays his comedy chops…
[Next week: Stroke Bloke finally figures out graphic design, IP, and everything]