Before being distracted by something shiny last week, I was trying to figure out what the hell was going on with this Donald Trump thing. Why, over the past week, have presidential general election polls continued to see Trump bouncing along at 40%, when he's indicated that a Trump presidency would look like this?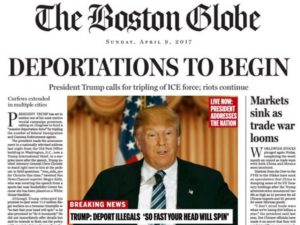 That's an actual [inside] page from this The Globe back in April, described as the front page we hope we never have to print. The accompanying editorial called Trump's White House run "flippant and reckless" and "profoundly un-American". But while this would all seem obvious from within The Globe's newsroom, or my Twitter feed, Trump easily won the Massachusetts Republican primary, collecting 22 delegates and nearly 50% of the vote. Meanwhile, over 50% of the voters in the recent EU referendum in these islands voted for an Out campaign fronted by Trump-like trolls.
So rather than dismissing this tendency out of hand, I've been trying to think a little about how we came to this pass.
Last week, I wrote that the GOP must bear some responsibility, and the Democratic Party, too. The Republicans themselves seem to think that Kathleen Parker's brain damage theory is closer to the mark.
Trump spokesperson on CNN denying Trump should be held responsible because he is "inarticulate at times" and not a professor in "grammar."

— Elizabeth Plank (@feministabulous) August 9, 2016
Nevertheless, that sticky 40% percent persists. It does no good to dismiss them out of hand. Why are they swinging behind the Republican party's nominee for President? As it happens, I was listening to Radio 4's PM programme again last Sunday. Even though I wasn't on it.
I still got my radio on.
On PM, broadcasting Giant Eddie Mair was asking someone to help explain what was going on, and why such a large portion of the electorate in America and Britain were so disdainful of experts. Meanwhile, another segment of the population – including the Radio 4 listenership – just doesn't get that idea. The expert Eddie asked pointed out that the lines among academe, punditry, and lobbying have become increasingly blurred, and even he, an Italian economic academic type, thought that the claims of forthcoming plagues of frogs in the last days of the referendum campaign were a bit much. The expert had some sympathy for the anti-experts.
Later in the day – and stay with me, it had some relevance – I saw comedian Marcus Brigstocke on the Edinburgh Fringe Festival.
He acknowledges that a lump of his audience is the Radio 4 demographic. While sometimes tweaking them, he's grateful for their attendance, and mostly plays to their Waitrose-shopping, quinoa-munching concerns. Even the edgier parts of the set allowed the audience to end their night thinking
Ooh, I'm still quite edgy, me.
I was quite at home, of course.
On of the reasons for Marcus's long face was, of course, that he was upset about the Brexit vote. But by the end of the set he was relating that things in his life were looking up after bouts with addiction and terrible relationships. Relating the joys of listening to Pink Floyd, natch, a healthy primary relationship, and eating good cheese with his pants off.
So maybe I need to switch Radio 4 off and not worry so much about things that might never happen. NBC News ran an article on Friday about polls that suggest Hillary Clinton is running the table in key battleground states. Over at FiveThirtyEight, Nate Silver is cautiously speculating about what a Clinton landslide might look like.
On the other hand, I am going to see famously furious ex-Black Flag and Rollins Band frontman Henry Rollins on the Fringe tonight. Mrs Stroke Bloke's mad for an old, left-handed, tatted-up, vegetarian misanthrope.
And maybe the point where my progressive friends choose to swing behind Hillary Clinton with huge enthusiasm is problematic in its own way. In this blog post on Daily Kos from February, Mass Southpaw begins:
There are fine reasons to support Hillary Clinton's campaign. Some of the smartest people I know are behind her, and I appreciate their enthusiasm for what would be a historic achievement. I know, too, the long history of sexism and partisan attacks she has withstood. She's shown amazing resilience.
Yes, this. But the ensuing history  of troubling stances on issues from gay marriage to the Iraq War to capital punishment to welfare reform to cluster bombs is, well, troubling.
Have a fun evening! I know I will.
Save
Save
Save
Save