Last week's post was described by The Prof as a perfect distillation of an apoplectic.me post – presumably in the hope that I would JUST STOP ALREADY!!! Well, I won't. Because I distilled it even further, and it was presented on Broadcasting Giant Eddie Mair's Radio 4 PM show on 5th August.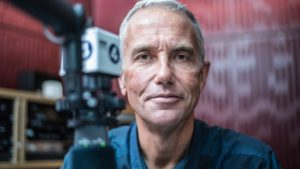 [Can't stop, won't stop? Get more apoplexy straight to your inbox here.]
Nerd Bait's Wee Mermannie, a tireless campaigner against accent prejudice, would have been tickled to hear me sounding quite unlike my usual self. Furthermore, my remarks were censored by our imperial overlords. Now, Mrs Stroke Bloke reckons they were edited for time….
I'll just note that what was omitted was a perfectly crafted simultaneous slam on Morrissey and MC Wee Davey C.
The news at the top of that edition of PM was 2016 as all get-out. Black Lives Matter protests across England. Another inquiry into another establishment cover-up that's been postponed again. As I note in a recent review for The Edinburgh Reporter, the straight theatre on this year's Edinburgh Festival is all
glitchy sound design, stark, confrontational settings, multiple roles, and a sense of foreboding and menace.
That is, it's very 2016. And what could be more 2016 than The Donald and his Incredible Post-Truth Cavalcade of Great Hate?
Just watch John Oliver eviscerate Newt Gingrich's bullshit starting at 14m 24s here for a flavour of how messed up everything is right now.
He brought a feeling to a f*$%ing fact fight!
Now. It's very easy to laugh at The Donald. Very easy indeed. Like, really very easy.
But that's not the way here at apoplectic.me.
See, it's too easy. The Donald's rise is terrible. This is a man who just spent an hour of a national security meeting asking why we can't just use the nukes?!?! When actual military men discussed this on The Moral Maze recently, the consensus was that anyone who says they'd press the button and means it, hasn't actually given proper thought to the action.
Now of course, the British Prime Minister recently gave a really good impression of someone who says they'd press the button and really means it, with buckets of relish. So did Labour leadership challenger, Owen Smith. And the British comparison is instructive here.
Here in the New Yorker, Andy Borowitz discusses how the British have lost their right to claim that Americans are dumber after the EU referendum. At least until November. So what is going on on both sides of the Atlantic? Yes, there's a core group of people who are sick of political correctness. But have you ever heard anyone complain complain about being sick of political correctness when they're not implicitly complaining about not being able to complain about women or minorities or LGBTQI folks? Me neither. They should just go to a safe space. I'd really rather think that more or less overt racism doesn't account for around 40% of the population.
But I keep trying to drag myself back to the point. While the bad elephant on The Donald's shoulder about is somewhat to blame for what's going on, the so-called left in the US and (what I still, this week, have to call) the UK are so very culpable in what has been happening. Ed Miliband's Ed Stone, for Gord's sake. Clinton Mk I's triangulating. The failure of New Labour and Democrat governments to maintain a momentum to make the lot of the vast majority of people better. And now those people are pissed and folks like Farage and Trump are taking advantage of it.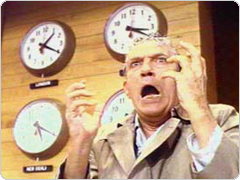 Or…. Long-Suffering Reader of the Blog Paul offers another theory presented by Kathleen Parker in The Washington Post.
Could Trump's quick-to-anger, unfiltered outbursts be attributable to something akin to [brain damage]?
Parker writes affectingly about her experience with a brain injury and how her inhibitory filters went on the blink. Many people who have been affected by stroke will recognize this. I certainly do – some of the stuff I said in those early days particularly was much worse than my enraged commands issued in my position as Vice President of the United States.
But not Trump worse, obviously. Beth had a lovely little theory – in this state of rampaging id, after the very beginning of recovery had begun, a person is stripped down to their base personality. And, yes, I was occasionally angry. But I was funny a lot of the time, and she liked that.
Oh, and I was lacking in focus and easily distracted. Unlike the funny, that hasn't dissipated.
Save
Save
Save
Save
Save
Save
Save
Save