It's been over two years since the last stroke news digest on apoplectic.me. Which must mean something, I suppose. But yesterday, I was revisiting some old posts from the January immediately following Strokefest 2012, and strokes have been all over the news during the past week. So I thought today might be a good time to reclaim my Stroke Bloke identity.
[For The Stroke News That's Unfit To Print, check out the Apoplexy newsletter.]
Here we go.
Thrombelina

Back in October, I reported on a revolutionary new treatment that was bringing ischemic stroke victims "back to life". A 17-year-old-girl was able to go home from hospital the day after being wheeled in unable to speak or move the right side of her body, after doctors fed a 3ft-long catheter wire through her groin to fish blood clots out of her brain.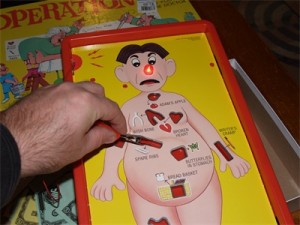 This morning paper and radio reports today are full of news that NHS England are set to expand provision of the "game-changing" stroke treatment of mechanical thrombectomy beyond a handful of hospitals to 8,000 patients a year.
UK-wide papers are very bad at including comparisons between NHS England and NHS Scotland in their reports, so I'm not entirely sure of the status of the treatment up here in the frozen north. But as an aside, it was good to learn this week that NHS Scotland has become the first of the UK nations to approve the provision of PrEP by the NHS to prevent HIV.
With Great Power…
Even a thrombectomy doesn't actually protect the brain from stroke injuries as they happen. The always informative Ian Sample (the Grauniad's science editor, who tends to be pretty awesome on their Science Weekly podcast) writes here about how these injuries occur:
When a stroke happens, the oxygen level in the brain drops. This forces the brain to burn its primary fuel, glucose, very differently. Instead of oxidising glucose for energy, the brain switches to a process called anaerobic glycolysis. The reaction releases energy to keep the brain working, but it also produces acid, which can cause brain cells to die.
He provides this background as part of a story that, at the University of Queensland, they have found that administering a particular molecule from the venom of deadly Australian funnel web spiders two hours after stroke reduced the extent of brain damage in rats by 80%. And the compound was still effective eight hours after stroke, reducing the amount of brain damage by about 65% when compared with untreated animals.
Yes, they're inducing strokes in rats. I get it, but that's still, instinctively, messed up.
They're about two years from testing this on humans, not least because of the differences between ischemic and haemorrhage strokes. But if the drug works on haemorrhage strokes, this would be huge, because then it could be administered as soon as a patient reaches a doctor. Clot-busting drugs can't be administered as quickly, because providing them to a patient with a brain bleed and thinning their blood would have disastrous results.
Maybe they'll try it on pigs, first
Ischemic Youth
As if it doesn't suck enough to be young these days, Reuters relates research published in JAMA Neurology to the effect that stroke hospitalisations are increasing among young American adults.
During a study period running from 2003-2012, the researches found that stroke hospitalizations in the 35-44 age group rose 42 percent for men and 30 percent for women. The hospital billing data on acute ischemic strokes also showed that
The proportion of people with at least three of the five major risk factors for stroke – high blood pressure, diabetes, high cholesterol, obesity and smoking – rose in all age groups but soared the most, almost doubling, in adults aged 35 to 44.
As the kids say, I'll just leave that there.