Phew! That was quite a weekend! On Friday evening, I had the great pleasure of co-hosting the launch of the chapbook In Failure & In Ruins by my friend, former Into the Void Poetry Competition winner Mark Bolsover.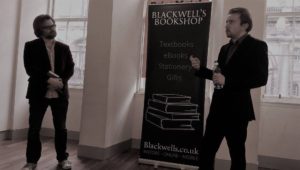 The next day, Mrs Stroke Bloke and I headed through to Glasgow to see the latest production from Kneehigh Theatre, whose Mayday Mayday had such an effect on us in the months after my stroke.
[For more whimsy and reflections, check out the Apoplexy Tiny Letter.]
Mark's book is a collection of psychological realist experimental prose poetry, and he invited some of his talented friends and me to share some of their work at the launch, too. It was hard to know what to pick to read. Mark uses a totally unique voice to try to capture that sense of self that Farris Jabr describes when he writes that
…we depend on the totality of our inner chatter, even the more banal bits [like when you use the word 'that' three times in one clause], to construct something incredibly fundamental: our sense of self.
Y'see, although its themes can be challenging, the relationship of my prose style to the experimental is that… it's not.
But since the work being launched casts an inner eye on the workings of the mind, and its title is IN FAILURE & IN RUINS, a short piece about the weekend my brain exploded the day after I lost my job seemed apposite. I've been told that its picture of me apparently dying with Mrs Stroke Bloke by my side is quite moving. Fortunately, I didn't die in front of the audience at Blackwells, and on Saturday Mrs SB and I were on our way to the legendary Citizens Theatre in the Gorbals to see Kneehigh revive its Tristan and Yseult – after hearing great reports from its run at Brooklyn's St Ann's Warehouse.
Yeah. I was confused, too. Although Wagner's Tristan und Isolde gets a namecheck, Kneehigh's programme makes the point that the world's oldest love story [has links with stories from] Syria, Norway, Ireland, France, Germany, Greece and more, and this excitingly physical version is a take on the Anglo-Norman Tristan and Iseult set in a 5th century Cornwall. While Cornwall – home to Kneehigh – voted resoundingly for Brexit and has been unsuccessfully seeking assurances from the British government that its tens of millions of pounds of EU investment will be replaced, 5th century Cornwall was one of the richest kingdoms in the world and its tin mines put it at the centre of trade routes when tin was more valuable than gold.
As – in this version – Tristan is more French than Cornish, and (per the Anglo-Norman version) Yseult is the daughter of a marauding Irish king, this show has a definitely, defiantly internationalist feel. One way in which the adherence to the Anglo-Norman versions is contemporary, though, is that the Irish are cast as the bogeymen, rampaging through the audience and tossing their declarations that Cornwall is now Irish.
As the polls have tightened in the run-up to the British general election, and discussion has turned to the number of police that have been axed during Theresa May's time as Home Secretary and Prime Minister, it's been notable how much of the news reported by the BBC, the Daily Telegraph and The Sun has been devoted to to Jeremy Corbyn's historic meetings with Sinn Fein and/or the IRA, his objections to the British Army's and the RUC's shoot-to-kill policy in Northern Ireland, and the discovery of a stash of Semtex in Dublin. This contrasts with the absence of much discussion of any details of how the UK's only land border with the EU will operate in the aftermath of this "Brexit election".
Specious, spurious #GE2017 is really screwing with my paper recycling. Hope Scottish Labour & the Tories have found a magic paper tree. pic.twitter.com/lS3dbvkRJi

— Ricky Monahan Brown (@ricky_ballboy) June 4, 2017
And it was striking how European Dublin felt when we visited it in the aftermath of our trips to Dusseldorf and Berlin last year. Outward lies the way! – I wonder  how many financial institutions with European bases in London and Edinburgh will be setting up offices there over the coming months and years.
But, anyway. Tristan and Iseult. At the end of the story – SPOILER ALERT, but it's been 900 years – Tristan and Iseult have been parted, and Tristan has married a different Iseult – Iseult of the White Hands, whom he's married basically because of her name. He's been wounded by a poisoned lance and sends his friend Kahedin to find Iseult, the only person who can heal him. Tristan tells Kahedin to sail back with white sails if he is bringing Iseult, and black sails if he is not. Iseult agrees to return to Tristan with Kahedin, but White Hands lies to Tristan about the colour of the sails. Tristan dies of grief, thinking that Iseult has betrayed him, and Iseult dies swooning over his corpse.
There is, of course, nothing Tristan and Yseult can do to avoid their tragic fate – some berk is playing Wagner in the background, for god's sake. Stroke Bloke and Mrs Stroke Bloke were luckier – we've been able to rewrite our history quite extensively. But what of Britain? What of Scotland? Are they to be doomed by their tragic flaws while the Irish knight Morholt reaps the rewards in a surprise fourth act?
What is process for removing our EU citizenship? Voting yes. #scotdecides

— Better Together (@UK_Together) September 2, 2014
I've got yer tragedy right here mate, delivered by an evil dwarf. Well, let's see what next week's chapter delivers, shall we?
Coffee and #GE17 is a really bad combo for me. pic.twitter.com/RUdH0ZFy1X

— Ricky Monahan Brown (@ricky_ballboy) May 22, 2017