Before we get started, I'd like to direct you to Marcelo's comment to recent post Into The Trees. and the associated Wired article.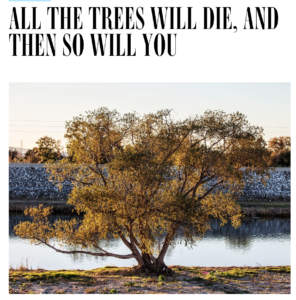 [For more cheery, knockabout humour, check out the Apoplexy Tiny Letter]
That seems to capture my mood as I write this post in the morning in America. Here's the Ronald Reagan ad – Prouder, Stronger, Better – from 1984 that's commonly referred to as Morning In America.
Yeah. That's not my mood.
But at least I'm not in the Islands of the North Atlantic, where they're in the midst of a general election that will (probably) more directly impact on me and my family. Speaking of 1984, the leader of the Conservative Party in Scotland was invited to give the 2017 Orwell Prize shortlist lecture last night.
"A British Tory will defend self-determination in Europe and oppose it in India with no feeling of inconsistency." — George Orwell

— Alistair Davidson (@moh_kohn) May 15, 2017
[sic]
I have absolutely no intention of reading the text of Davidson's speech – alert readers will recall that I'm a survivor of a haemorrhage stroke, and I have absolutely no intention of busting an aneurysm. In fact, I'm not even particularly minded to read any of the reports on her lecture. Orwell's name is banded around on the interwebz by people with a passing familiarity with 1984 and Animal Farm from high school too often already.
You can check this apoplectic.me post from 2013 for proof.
But, you know, if it's your thing, here's Bella Caledonia's take on Davidson's talk. Or the full text is available on the Scottish Conservatives' website.
As far as I understand it, Davidson presented her distinctive take on the evils of nationalism.
I love my country too much to be a nationalist #orwelldavidson

— The Orwell Prize (@TheOrwellPrize) May 15, 2017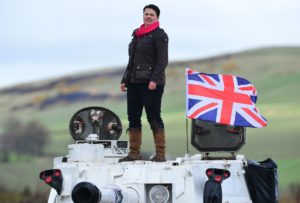 Before expanding into other areas.
"I've been very tolerable but I'm afraid that's it" – Ruth hides after tough questions on veterans using foodbanks. #brokenbritain #ToryUK https://t.co/PP2Xgby9xm

— Jamie Szymkowiak (@jamieszymko) May 15, 2017
Unfortunately, a quick search of the text of the speech doesn't show up any discussion of the books shortlisted for this year's Orwell Prize. I can't imagine why.
But here they are, as a service to apoplectic.me readers.
1.  Citizen Clem by John Bew (Quercus) – on the rise of post-war Labour Prime Minister Clement Attlee, whose government established the National Health Service and the British welfare state.
2.  The Seven by Ruth Dudley Edwards (Oneworld) – Ruth Dudley Edwards' book on the founding fathers of Ireland which, according to The Independent, displays its author's obvious disdain for her subjects [as] she attempts to demonise them – and anyone else who has Irish nationalist sympathies – in every way possible.
3.  All Out War by Tim Shipman (William Collins) – which tackles the causes and impact of Brexit as the biggest upheaval in British political life since the second world war.
It is worth remembering that, scant few months ago, Ruth Davidson's views on Europe were closer to Sturgeon's than to the Brexit platform. https://t.co/4bhkF5RGaL

— PeatWorrier (@PeatWorrier) May 15, 2017
4. Island Story by JD Taylor (Repeater) – in which the writer takes a trip around the UK to take the temperature of the country in much the same fashion as Orwell  did in the 1930s for The Road to Wigan Pier [it says here].
5.  And the Sun Shines Now by Adrian Tempany (Faber & Faber) – a survivor's account of the Hillsborough disaster.
6.  Another Day in the Death of America by Gary Younge (Guardian Faber) – which takes aday at random – 23 November 2013 – and examined the lives of the 10 children and teenagers killed by firearms that day and how their cases related to America's gun laws.
But it's not morning any more, so I'm going to go outside in South Carolina to find some dinner. Wish me luck…